Foul Weather Postpones World Series Game Six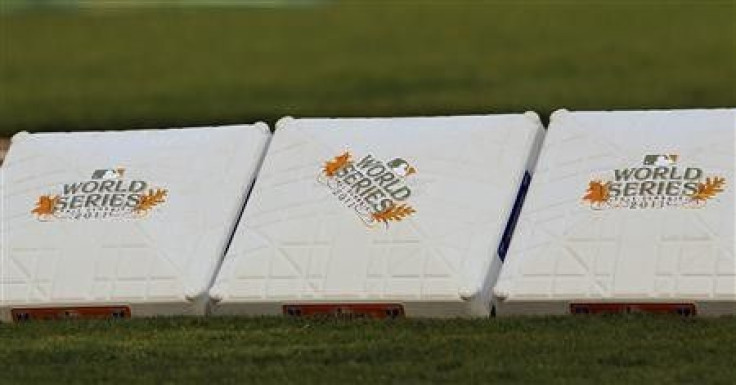 Game Six of the World Series between the Texas Rangers and the St. Louis Cardinals has been postponed due to rain in the forecast, Major League Baseball (MLB) said Wednesday.
The game has been rescheduled for Thursday at 8:05 p.m. EDT. Game Seven, if necessary, will be Friday.
Texas, seeking their first World Series championship, leads the best-of-seven series 3-2.
Light rain periodically fell in the St. Louis area on Wednesday but baseball officials looked at the radar and saw precipitation was expected later in the day.
Every forecast we've had probably for the last three days is calling for precipitation during the game, said Joe Torre, MLB's executive vice president for baseball operations.
As long as you have a forecast that we're expecting clear weather tomorrow, and, if necessary, the next day, I think that was more of a decision maker than anything else.
MLB officials did not want to have to stop the game after starting due to foul weather.
Torre, a former player and manager in St. Louis, said This town is one of the toughest as far as trying to figure out the weather.
He said Wednesday's game was called off several hours before the scheduled 8:05 p.m. ET start time for convenience.
Because of the forecast there was no reason to wait any longer, and the earlier we can do it, the more people can change plans and do what they need to do -- including the players and managers, too, Torre said.
In a rule adopted by owners in January 2009, if a game is suspended it will resume at the point it was stopped regardless of the score or inning.
Owners changed the rule following the interruption of Game Five during the 2008 World Series between the visiting Tampa Bay Rays and the Philadelphia Phillies in 2008.
The game was stopped because of a downpour in the top of the sixth inning with the game tied 2-2.
Commissioner Bud Selig suspended the game and because of continuing rain in the area, it was not resumed until two days later with the Phillies winning the completed contest 4-3 to claim the World Series title.
Until the new rule was adopted, baseball's rules regarding World Series postponements were the same as the regular season. Baseball officials did not want a Fall Classic game shortened because of rain and ordered that all World Series games be played until completion.
© Copyright Thomson Reuters 2023. All rights reserved.