Fox News Host Tucker Carlson Exits In Shock Move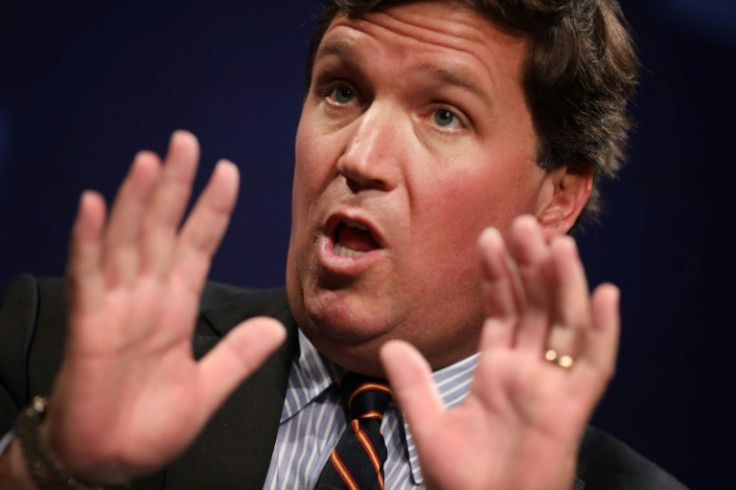 Fox News star host Tucker Carlson is leaving the influential conservative TV network, it was announced Monday, in a surprise move days after the outlet was forced to pay a huge financial settlement to end a defamation case.
Carlson was the best-known personality on Fox's presenting roster, hosting a popular prime-time evening show that drew a fiercely loyal audience among right-wing viewers.
A key figure in Republican politics, he often interviewed Donald Trump and has been widely criticized for his abrasive style, alleged lack of journalistic rigor and -- to his critics -- his stream of disinformation and racist and hate-filled rhetoric.
"Fox News Media and Tucker Carlson have agreed to part ways. We thank him for his service to the network as a host and prior to that as a contributor," the network said in a statement.
The 53-year-old Carlson, who joined the network in 2009, gave no immediate reaction to the statement.
Railing against everything from immigration policies to gun controls, "Tucker Carlson Tonight" pilloried liberal trends in modern America, appealing to viewers' outrage and propelling the show to the heights of cable television.
The $787.5-million defamation settlement last week meant that neither Fox Corporation chairman Rupert Murdoch nor hosts such as Carlson would have to testify in what was expected to be an explosive trial.
But copious amounts of internal Fox News communications reported by US media ahead of the scheduled trial had suggested senior figures at the network were prepared to spread falsehoods about the election for fear of losing viewers to rivals.
In leaked communications, Carlson said he couldn't wait until he could "ignore Trump most nights," adding: "I hate him passionately."
Fox News accused plaintiffs Dominion of "cherry-picking and taking quotes out of context."
Dominion, a voting technology company, won the huge payout from Fox after suing the broadcaster for airing false claims that its machines were used to steal the 2020 presidential election from Trump.
Despite the criticism Carlson engendered, Fox News had previously backed him at all costs as he generated nationwide controversy, media attention, viewers and advertising revenue.
The network's lawyers argued in a 2020 slander lawsuit that viewers knew to treat material on his show with skepticism.
Despite the political influence he has wielded, Carlson lives far from the heart of the United States government, in a rural corner of Maine, where he sometimes records his show.
He appeared relaxed and confident during his last show on Friday evening, and his sudden departure shocked Washington and Wall Street, with Fox News's share price falling nearly four percent.
Carlson has long attracted reports that he would seek to enter politics but previously dismissed suggestions he had presidential ambitions, saying "I'm a talk show host; I enjoy it."
© Copyright AFP 2023. All rights reserved.