Freddie Gray Opening Arguments: Spinal Injury Didn't Happen During Arrest, Baltimore Prosecutor Says During Officer's Trial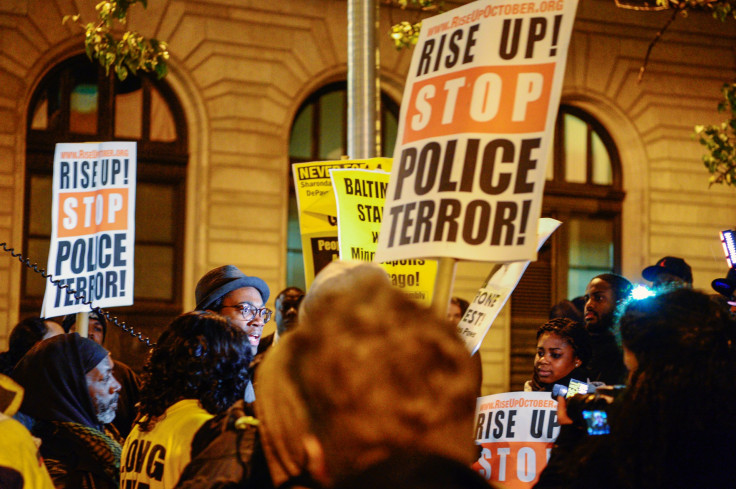 Freddie Gray had no apparent spinal injury during his arrest in April when he was thrown into a Baltimore police van, the lead prosecutor said during Wednesday's opening arguments of the trial against one of the six officers charged in Gray's death. "There is nothing wrong with his spine," Michael Schatzow, chief deputy state's attorney, told jurors as a video of the April 12 arrest played in Baltimore City Circuit Court, the Baltimore Sun reported.
William G. Porter, the first of the six Baltimore Police Department officers to be tried for their alleged roles in Gray's death, listened to a litany of allegations from Schatzow describing Gray's fateful ride in police transport, including how Gray was never placed in a seatbelt. "There was no reason not to put him in a seatbelt, unless you simply didn't care," Schatzow said before adding that Porter is "on trial for what he did, and more important, what he didn't do."
The Baltimore Police Department updated its policy requiring seatbelts in their vans April 9, just three days ahead of Gray's arrest.
Schatzow relied heavily on video footage of the arrest during much of his opening statements, using the imagery to attempt to contradict Porter's previous statements denying any culpability for Gray's death. Gray died one week after the arrest, and his death was attributed to a spinal cord injury -- though it remains unclear how he sustained it.
Porter was there for five of the van's six stops prior to arriving at the police station to book Gray, 25, according to Schatzow, whose opening statements lasted for about 45 minutes. They were scheduled to be followed by opening statements from the defense, which was expected to come later Wednesday afternoon after the lunch recess.
Gray's autopsy showed he suffered a "high-energy injury" in the van, and the medical examiner's office ruled that his death was a homicide that could not be classified as an accident because of "acts of omission" by the officers' lack of following safety protocol for a person who was arrested. The six officers were indicted about a month after Gray's death, which resulted in widespread unrest in portions of Baltimore, and prompted a series of protests and demonstrations that continue to be held.
© Copyright IBTimes 2022. All rights reserved.
FOLLOW MORE IBT NEWS ON THE BELOW CHANNELS