Free Community College: Obama Debuts 'America's College Promise' To Doubts Over Cost, Legislation And Student Benefit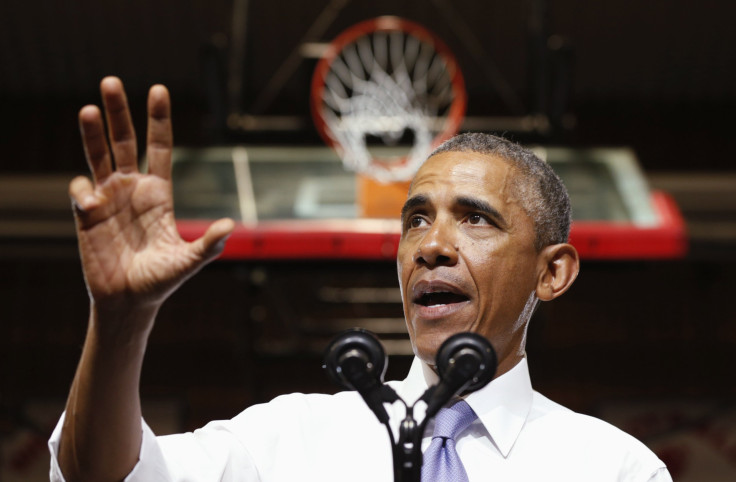 About 9 million students a year could go to community college for free under U.S. President Barack Obama's newest proposal. The "America's College Promise" program would give two tuition-free years of community college to "everybody who's willing to work for it," said Obama, who outlined the plan in a Friday speech at Pellissippi State Community College in Knoxville, Tenn.
Vice President Joe Biden and his professor wife, Jill, introduced the president with stories of nontraditional and low-income students seeking higher education. The community college system is "the single best-kept secret in America," Biden said, and a direct avenue to the middle class. The event came about 18 hours after Obama appeared in a Facebook video introducing the proposal. It quickly went viral Thursday night, garnering about 6 million views by 10 a.m. Friday EST.
Obama said the way to build on the economy's recovery is to make education affordable. "Here in America, we don't guarantee equal outcomes ... but we do expect that everybody gets an equal shot," he said. "We do expect everybody can go as far as their dreams and hard work will take them." Higher education, he said, is "the key to getting a good job that pays a good income and ... ensures you're always employable."
Obama's new policy was inspired by the Tennessee Promise program created by Gov. Bill Haslam, which pays two years' tuition for recent high school graduates who attend state technical schools or community colleges. Under Obama's proposal, federal funding would take care of 75 percent of the cost and states would cover the other 25 percent. The plan would cost the federal government about $60 billion over 10 years, deputy press secretary Eric Schultz told reporters, and could save the average community college student $3,800 in tuition annually. In order to take advantage of the program, students would have keep a minimum 2.5 GPA, be enrolled at least halftime and work to finish their programs.
Critics, however, immediately questioned the proposal's effectiveness. Brookings Institution senior fellow Matthew Chingos said most low-income students qualify for Pell Grants that make community college tuition essentially free anyway. "In places where community colleges are relatively inexpensive, making them free would largely, it seems, benefit folks from less low-income families," said Chingos, an expert on education policy.
Diverting students in four-year degree programs to two-year colleges means a lot of them won't graduate because they won't have the money or desire to transfer from community colleges to universities, he said. Plus, he said, the proposal was "politically dead on arrival" because the GOP-run Congress was unlikely to ever pass legislation that would fund it. House Speaker John Boehner, R-Ohio, came out against it Thursday, dismissing the proposal as a talking point.
For many Republicans, the biggest problem with the proposal is its potential cost. Republican U.S. Rep. Jeff Duncan of South Carolina tweeted: "Nothing is free. Someone pays the bill."
There has been some bipartisan interest in the proposal. U.S. Sens. Bob Corker and Lamar Alexander, and Rep. Jimmy Duncan, all Republicans from Tennessee, joined Obama on Air Force One en route to Knoxville on Friday. About 10 Democratic representatives tweeted their support of the proposal Friday, including Rep. Janice Hahn of California, who wrote "this is big" with a link to the announcement.
The program could be yet another blow for the for-profit college industry, which the Obama administration has aimed to curtail in recent years. The education department created gainful employment rules in November that threaten aid for career-training programs if a school's graduates don't make enough money to pay off their loans. Private colleges sued, claiming the regulations were "unlawful, arbitrary and irrational" because a variety of factors influence student income.
Some for-profit colleges have been called out for sketchy recruitment techniques like unfilled job promises and rigged job placement statistics. Corinthian Colleges Inc. remains under investigation by the U.S. Consumer Financial Protection Bureau for its loan policies.
For-profits and community colleges often compete for the same low-income students looking for vocational programs.
© Copyright IBTimes 2023. All rights reserved.