French Jews Fleeing To Israel? For Some Aliyah Is Not The Answer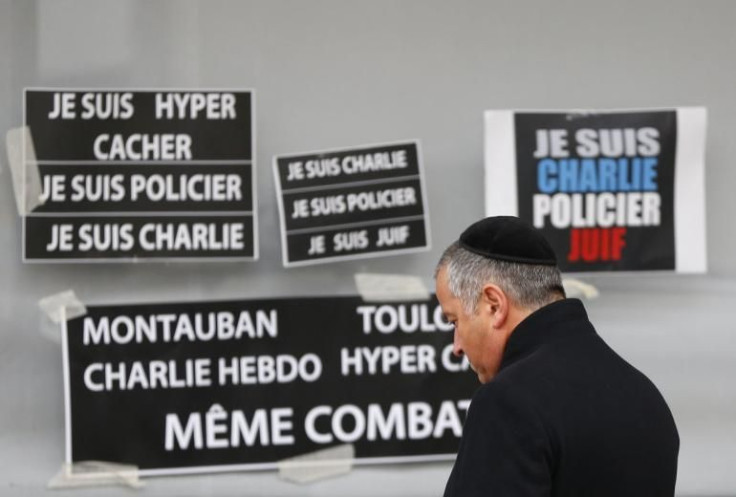 Reports of a mass exodus of French Jews to Israel in the wake of the terrorist attacks in Paris last week may be overblown. In fact, experts predict those who were planning to make aliyah, or "ascent" to Israel, will opt out of it or go for a time and then return to France. For some French Jews, the daily difficulties -- language, cultural, economic -- involved in moving to the Middle East would far outweigh the benefits of escaping anti-Semitism.
"Sometimes we think about [moving to Israel]. But we were born in France; we're French," Charlie Saada, owner of the André et Fils butcher shop on Rue des Rosiers in Paris, told International Business Times on Tuesday.
Israel expects about 10,000 new immigrants from France next year, Natan Sharansky, head of the Jewish Agency for Israel, told Reuters earlier this week. That would be up from the roughly 7,000 French Jews the year before, with France losing more Jews than any other country in the world. About half that amount moved to Israel in 2013. It was already trending up before the attacks on a kosher market that left four Jews dead, and some say the Paris terror attacks won't necessarily cause a further immigration surge.
"I don't expect a mass exodus," Brent E. Sasley, an associate professor of political science at the University of Texas at Arlington who specializes in Israeli politics and international relations, told IBTimes. "There is certainly discomfort and concern [after the Paris attacks] but it's very difficult to pick up and leave a country where you have been living for a long time."
Compared to France's extensive social services, which include universal healthcare, higher education, comprehensive unemployment and pension benefits as well as a higher minimum wage -- Israel is a leaner alternative. Not to mention Israel's precarious position in the Middle East, where radical Islamists are "as routine as baguettes and Bordeaux," Shmuel Rosner, political editor at The Jewish Journal, said in an op-ed for the New York Times on Thursday.
"It's like starting a new life," Sami, a 38-year-old financial analyst who lives near the Hyper Cacher kosher supermarket in eastern Paris where four hostages died last Friday, told Reuters. "We're French and it's an Israeli culture there," said Sami, who only gave his first name. "They don't recognize all our university degrees. You need Hebrew, so you have to learn a new language."
Compared to other western countries, moving to Israel could be a simpler option. Israel's Law of Return allows anyone who is Jewish to make aliyah -- become Israeli citizens. Upon arrival, new immigrants are offered integration programs and receive financial benefits to ease their transition. In countries such as the U.S. and Canada, Jewish immigrants are treated like any other -- one's ethnic or religious background aren't taken into consideration. Applying for visas and permanent residency can be a costly and lengthy process.
Marlen Kruzhkov, an attorney with New York-based Gusrae Kaplan who specializes in corporate and transactional law, handles nearly a dozen French Jewish clients who have made American investments. He knows some who have chosen to move to Israel instead of the United States precisely because of the immigration process. While his practice doesn't handle immigration, he has seen a marked increase in the number of people inquiring about moving to the U.S. within the past six months.
"There's been a lot of inquiry in terms of immigration. It has gone up a lot. From zero to dozens of people asking," Kruzhkov said.
"People no longer feel safe -- especially in regard to their children," he said. One client who called him after the Paris attacks said, "I have teenagers. Teenagers need room to grow but I'm scared for them to walk home alone."
While Israeli Prime Minister Benjamin Netanyahu encouraged French Jews to see Israel "also as your home," some Jews say these kinds of statements produce unnecessary fear. And if thousands do flock to the Holy Land as predicted, how would this affect the Jewish community in France that has existed since the Middle Ages?
"The expectation that Israel is the last refuge or safe haven evokes a Masada complex," Sasley said, referring to the notion exhibited by the archeological ruin. Located in the Negev Desert in Israel, thousands of Jewish zealots committed suicide in the hilltop fortress during the First Roman-Jewish war in A.D. 73. The "Masada complex" is a term used by political analysts to describe the belief that it's better to die than lose one's political independence.
"Masada doesn't end well for the Jews," Sasley said. "I'm not sure that's what Israelis or Jews want to promote."
Rabbi Menachem Margolin, director of the European Jewish Association, made a similar argument.
"I regret that after every anti-Semitic attack in Europe, the Israeli government dispenses the same statements about the importance of aliyah rather than take all measures … at its disposal in order to increase the safety of Jewish life in Europe," he told the Israeli news website NRG. "Every such Israeli campaign severely weakens and damages the Jewish communities that have the right to live securely wherever they are."
For Mort Klein, president of the Zionist Organization of America, a 30,000 member pro-Israel organization, Israel has its fair share of terrorist attacks, but it also offers a certain level of security in a world rife with anti-Semitism. He points to the anxiety he hears among French Jews both before and after last week's rampage that killed 12 people at France's Charlie Hebdo satirical magazine.
"The source of that motivation increases every day in Europe," Klein said, referring to the number of Jews considering moving to Israel. "They are becoming nervous about being Jewish."
FOR FREE to continue reading
✔️ Unlock the full content of International Business Times UK for free
offer available for a limited time only
✔️ Easily manage your Newsletters subscriptions and save your favourite articles
✔️ No payment method required
Already have an account?
Log in
© Copyright IBTimes 2023. All rights reserved.