Gabrielle Giffords returns for debt vote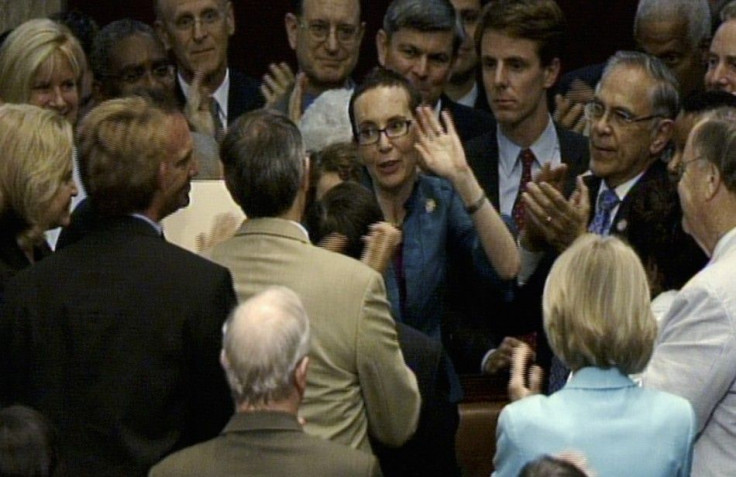 Representative Gabrielle Giffords returned to the U.S. House on Monday night for the first time since an assassination attempt, drawing thunderous applause in a rare moment of unity during a contentious vote to raise the U.S. debt ceiling.
Republicans and Democrats alike jumped to their feet and gave a sustained ovation to Giffords, who was shot in the head at close range by a gunman during a political event in Arizona in January.
Giffords, a Democrat, returned to vote in favor of a bill to raise the U.S. debt ceiling and avoid default.
The congresswoman, who has been undergoing intense rehabilitation and has kept out of the public eye, caught the chamber by surprise.
With two minutes to go in the 15-minute vote, Giffords walked in and hugged House Democratic leader Nancy Pelosi.
The chamber, which has been the site of acrimonious debate and bitter partisan fighting for weeks, erupted in applause after Giffords entered then voted "yes" to the bill.
Giffords, with short dark hair that is growing out after multiple head surgeries, was mobbed by people from both parties who wanted to shake her hand and offer a hug.
Several hundred spectators in the chamber for the vote joined in the applause. House Speaker John Boehner, the top Republican in Congress, said he met Giffords when she got off the elevator on her way in and said "welcome back."
After the vote, Pelosi acknowledged Giffords on the House floor and called her the "personification of courage."
A radiant Giffords blew kisses and waved to Pelosi and the crowd as she stood on her own on the floor. She greeted Vice President Joe Biden, who was in the chamber for the vote.
"She has the determination and heart of a lion and she's been working so hard and she knew that it was important for her to have her voice on probably the most pivotal vote that we'll have this Congress," Representative Debbie Wasserman Schultz, a friend of Giffords, told MSNBC.
The shooting at a Tuscon shopping mall killed six people and left 12 others wounded. An Arizona man has been charged.
Though Giffords talked energetically with colleagues and waved constantly to others, she moved gingerly and with caution. Her aides kept a close watch on her, offering a stabilizing hand to sit or support her.
The first sign that Giffords was to return was a tweet from her office: "Gabrielle has returned to Washington to support a bipartisan bill to prevent economic crisis. Turn on C-SPAN now: j.mp/hmYxTM."
A few minutes later, after she cast her vote, Giffords offered up her own tweet: "The #Capitol looks beautiful and I am honored to be at work tonight."
© Copyright Thomson Reuters 2023. All rights reserved.