Gay Ireland Hails 'A New Republic' As Same-Sex Marriage Approved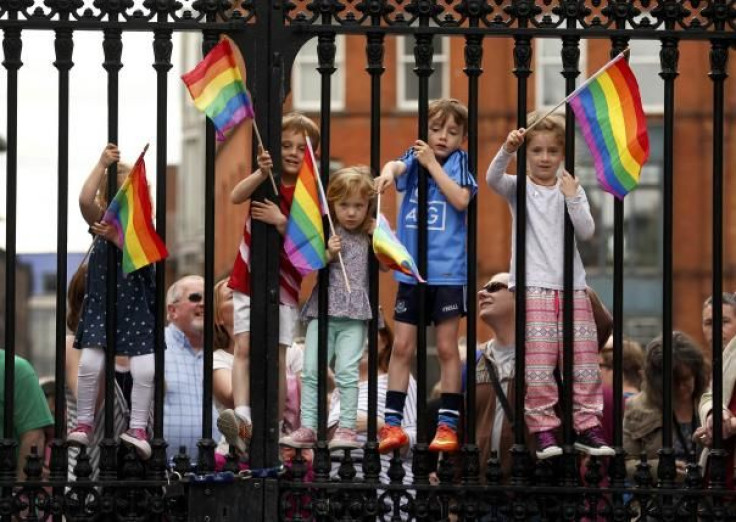 Gay couples flocked to central Dublin to celebrate a "historic watershed" on Saturday as a large majority in the traditionally Catholic country voted to allow same-sex marriage, the culmination of a four-decade struggle for gay rights.
Waving rainbow flags, embracing and crying, two thousand people gathered to watch the official results in the courtyard of Dublin Castle after voters, young and old, accounted for one of the highest turnouts in a referendum for decades.
"The amount of people who came out to vote is just such an emotional thing for us," said Fred Schelbaum, 48, standing with his civil partner Feargal Scott, 43, who he said he intended to marry.
"Up to now a lot of gay people felt they were tolerated in Ireland. Now we know that it's much more than that."
The crowds cheered as gay rights icons appeared on the square, including David Norris, whose campaign led to the 1993 decriminalization of gay sex and, and Rory O'Neill, whose Panti Bliss drag queen character became the face of the campaign.
"The future for young LGBT (Lesbian, Gay, Bisexual and Transgender) people in this country is incredible," O'Neill said.
"I'm just glad to be here on the day this Ireland came into being."
Jean Webster, a 54-year-old administrator who came out as a lesbian eight years ago after separating from her husband, said that after the birth of her children, this was the happiest day of her life.
"A lot of my family have voted no in this campaign so at a personal level it has been very traumatic," she said. "I needed to wake up this morning to have thousands of people affirm my rights when certain people in my family weren't."
The emergence of a new generation of young voters was a "historic watershed" in Irish politics that had the potential to finally break the link between church and state, she said.
"We woke up today to a new Ireland. The real Irish Republic that I have dreamed of my whole life," she said.
Several high-profile Irish figures who have come out as gay since the start of the campaign hailed the new atmosphere it had ushered in the country.
"Ten years ago Ireland was still a very dark place," said former minister Pat Carey, who waited until his late 60s to open up about being gay.
"There was a lot of raw wounds that needed to be healed. I think the young people of Ireland have grabbed this country by the neck and it's unrecognizable to what it was 10 years ago."
(Editing by Raissa Kasolowsky)
© Copyright Thomson Reuters 2023. All rights reserved.