Gay Marriage Economic Impact: After Supreme Court Ruling, Wedding Industry Expected To Embrace LGBT Couples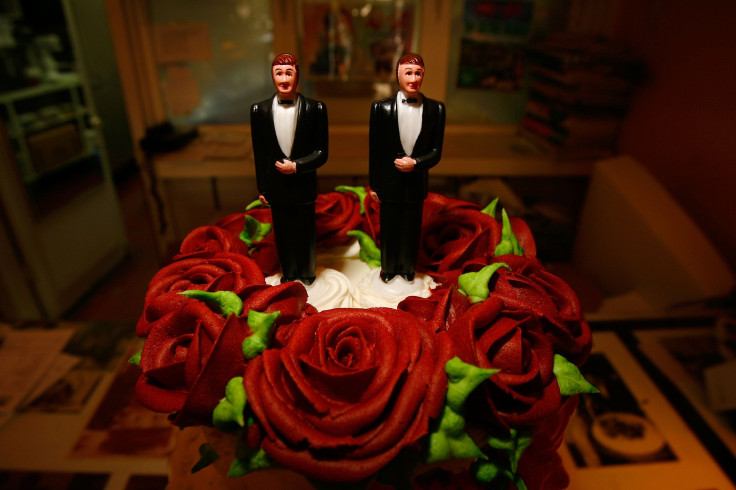 Bleu Copas' voice grew wistful as he described his planned wedding venue, a small chapel located in a treehouse at his friend's place in Nashville, Tennessee. His friend was lending him and other gay couples the outdoor venue for free to celebrate gay marriage rights. Sure, a treehouse chapel is untraditional, not air-conditioned and might get hot, but Copas said it was perfect nonetheless.
With the Supreme Court legalizing gay marriage across the country in a landmark decision Friday, more gay couples are expected to walk down the aisle than ever before. That's good news for the wedding industry, which has struggled amid years of sinking marriage rates. The typical total cost of a wedding is about $26,000, and a surge of gay weddings could send hundreds of millions of dollars into local businesses and economies in the coming months and years.
"It feels like a dream coming true, that I didn't even know I was ever going to have," Copas said Friday after learning about the Supreme Court ruling. "I can't wait to get married."
The Williams Institute at UCLA, which performs public policy and law research on sexual orientation and gender identity, estimated in 2014 that same-sex weddings could be worth about $2.5 billion total through the first three years they are legalized nationwide. For the 13 holdout states that had refused to recognize gay marriage before the Supreme Court decision, same-sex weddings were expected to have an economic impact of more than half a billion dollars in the first three years, according to a Williams Institute estimate released Monday. The states will perhaps see $47.7 million in tax revenue as well, along with anywhere from 2,069-6,210 jobs created as a result of same-sex marriages, according to the Williams Institute.
"Suddenly we have 150,000 same-sex couples [in the 13 states] that can get married. That has the potential for quite a big boost," said Lee Badgett, a Williams distinguished scholar at the Williams Institute and director of the Center for Public Policy and Administration at the University of Massachusetts Amherst. Badgett, also an economics professor, has seen how markets see a surge in wedding business when a state allows for same-sex marriages.
"A lot of it happens in the first few months. People are so excited, they've waited such a long time," she said. "There is definitely a lot of pent-up demand."
Business Booming
Dawn Becker owns Everything Plus the Cake, a shop in Biloxi, Mississippi, one of the 13 states that did not allow same-sex marriage prior to the Supreme Court decision. Her business provides all sorts of services to events and weddings, including planning, officiant services, flowers and -- of course -- cake. Becker had always backed LGBT rights and provided services for same-sex weddings. She expects to see a swift uptick in business now that same-sex marriage is legal in Mississippi.
"My business will boom," Becker said. "I hope that people realize I was here a long time ago and [I'm] not like people who will jump on the bandwagon to make a buck."
She even planned to run some kind of "silly special," like giving away wedding cakes to draw in customers, she said. Volume will likely pick up for the first six months as people are "playing catch-up with their lives," Becker said.
The wedding industry is worth about $51 billion total, but business has been less certain as the marriage rate has fallen from 8.2 marriages per 1,000 people in 2000 to just 6.8 marriages per 1,000 people in 2010. After the Supreme Court decision, vendors like Becker who have become known as LGBT-friendly can expect to receive a more pronounced boon from the growing same-sex wedding market to offset a down marriage market overall.
Kathryn Hamm is the publisher of GayWeddings.com, which is part of the large online wedding directory called Wedding Wire. She said that gay and lesbian couples often hear if a vendor – like a venue, florist or baker – will provide services to LGBT ceremonies.
"I think regardless of how the Supreme Court decided, wedding professionals need to plan to serve same-sex couples … that train has left the station," Hamm said. "With the shift in the market, the bottom line is that same-sex couples will go to wedding professionals and expect to be included anywhere."
A majority of Americans, 57 percent, now favor allowing gay and lesbian people to marry, according to a June poll by Pew. The wedding industry appears to want to embrace same-sex couples as well, with 86 percent of wedding professionals saying they would provide services for a same-sex wedding, according to a GayWeddings.com poll. The list of vendors on GayWeddings has grown 140 percent to 120,000 in the past two years, Hamm said.
Copas, in the midst of planning for his Tennessee wedding, said he asked around carefully to find a venue to host a reception in Nashville following the ceremony. Friends and research suggested places that were LGBT-friendly. His wedding budget was divided among those businesses, he said.
"That was part of our decision, researching our destination and finding folks that would be friendly," Copas said, adding he now feels like he's part of the nation's marriage community. "I hope folks see the value that we do bring in joining their team," he said of traditional married couples.
© Copyright IBTimes 2022. All rights reserved.
FOLLOW MORE IBT NEWS ON THE BELOW CHANNELS