Gay In Nigeria: LGBT Life In One Of The World's Most Homophobic Nations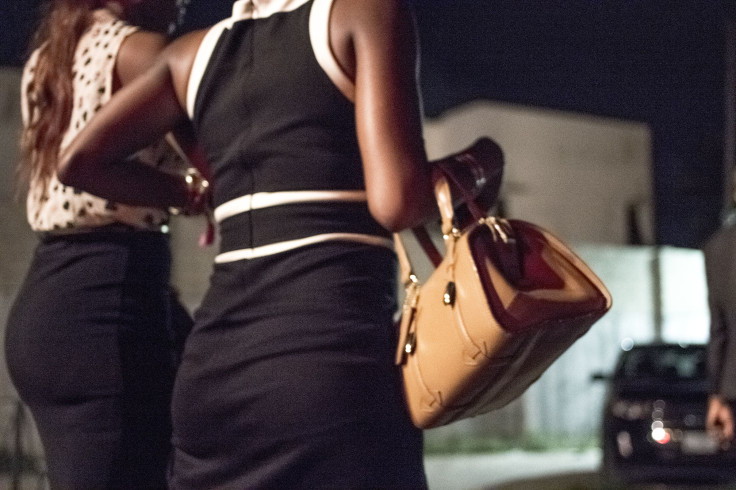 LAGOS, Nigeria -- Life in Nigeria, one of the world's most anti-gay nations, is a daily struggle for Adeola , a closeted, working-class homosexual man living on the outskirts of Abuja, the nation's small, central capital.
Adeola (not his real name) has been called offensive names, insulted and ostracized over assumptions about his sexuality, so he shields his true self in fear that coming out would only attract more intense abuse.
Meanwhile, some young, wealthy gay Nigerians who spend most of their time in the louche, Westernized Victoria Island section of Lagos -- the massive, quickly modernizing megalopolis on Nigeria's southwestern coast -- are able to live a quasi-open life despite the virulent homophobia that rules in much of the rest of the country.
For Adeola, a portly man in his thirties who earns a modest living as a cook at a catering company in Abuja, that life of openness is difficult to imagine.
Adeola said he worries about discrimination every time he walks out the door, especially in light of a law passed this year that, should it be signed by President Goodluck Jonathan, would make the sheer act of being gay punishable by up to 14 years in prison.
"It's extremely difficult because everyone sees you as abnormal," Adeola said while running errands at a busy Abuja shopping center. "Everything has to be in secret."
Adeola's fears are supported by statistical evidence: A study of 39 nations published by the Pew Research Center in June deemed Nigeria the least-accepting nation of the lot for gays, with 98 percent of survey respondents saying society should not accept homosexuality, edging out ultraconservative Jordan by a single percentage point.
An Accepting Bubble
Six upper-class gay professionals who met with the International Business Times at a Victoria Island restaurant last week say that because they mostly stay within that neighborhood's fairly tolerant bubble, they are largely able to avoid Adeola's constant state of fear. Still, they, like everyone else interviewed for this story, asked to be assigned pseudonyms because of the harsh penalties that can result from being identified as gay in the press.
"I've been very fortunate in Lagos because I've been around people who understand these things, who are accommodating, who understand, are very enlightened and don't judge," said Olawale, the owner of a high-end baking company, between sips of his Long Island iced tea.
Fatima, a Lagos content manager, has had a somewhat different experience. Although she grew up in the sprawling city, she attended private school on Victoria Island and was isolated from the poverty and chaos of the mainland during her youth. But after attending a London university, she returned to her home country and said she was shocked when she visited a friend's home on Lagos mainland for the first time. It was her first exposure to what locals call "the real Nigeria."
Fatima is not gay per se -- she describes her sexuality as "fluid" and said she is open to relationships with men or women -- but she mostly dates women. She said her first real lesbian experience was when she was 18 and in London, where she fell in love with a Trinidadian girl: "great skin, great hair, very pretty, great cook."
The relationship didn't work out, but it was obvious to her then that her sexuality didn't fit neatly in the "straight" box. Over the years, she has repeatedly attempted to talk to her parents and siblings about her relationships, but found them unwilling to have an open conversation about her orientation or her love life.
"I think it's easy hanging out with your friends, but it's more difficult with your family. I'm not really close to my family because of it," she said. "Not because they've done anything mean to me, but because I fear that they would. I've had friends whose parents kicked them out or disowned them because they told them they were gay."
Criminalizing Homosexuality
Being gay in Nigeria has long meant hiding in the shadows of society, but fear and anxiety among most members of the nation's gay community have grown markedly since May 30, when the Nigerian Senate passed a bill making the simple act of being homosexual a crime punishable by as long as 14 years in prison.
Jonathan has not yet signed or vetoed the bill -- which was previously passed by the Nigerian House of Representatives -- nor has he sent a clear signal of which side he will eventually take on the controversial measure.
The bill, coupled with legal restrictions on gay marriage, is actually lenient compared with the situation faced by gays in the Muslim-dominated north of the nation, where Shariah Islamic law makes homosexuality a capital offense punishable in some areas by stoning to death.
Even though the measure is not yet officially on the books, it has already had a chilling effect on gay life in Nigeria, according to Aisha, a lesbian friend of Fatima's.
"Prior to the law, there was a sort of 'Don't ask, don't tell' thing going on," Aisha said. "It was frowned upon -- just don't do anything in anyone's face." But now, she said, there is a widely held, albeit premature, belief that "it's illegal and it carries a sentence" of more than a dozen years behind bars, which further intimidates Nigeria's gay population.
Although Fatima considers Abuja to be "like gay central of Nigeria," the place she said she would go to "hook up with a girl, several girls, in one weekend," that side of gay life isn't accessible to many homosexual residents of the capital who aren't as well-heeled as her.
Adeola said that due to the discrimination he faces in Abuja, he uses underground channels and word-of-mouth to find other gay people to interact with or date. "It's just about networking. Someone you're sure is gay introduces you to someone else who is, who introduces you to someone else who is, and so on," he said.
Still, Adeola has been threatened and insulted on numerous occasions. "I have lots of name-calling, but no violence. They call me feminine names. For instance, if your name is Oliver, they'll call you Olivia," he explained.
Kingsley, a straight friend of Adeola's who has witnessed anti-gay discrimination of others firsthand in Abuja and surrounding areas, said that such sentiments are sadly quite common in Nigeria. Although he is not gay, he did not want his real name to be used because he associates with gay people.
"There are people like me who accept them, but then there are lots of people who once they find out someone is gay, they refuse to have any kind of contact with them," Kingsley explained as we sat in his sedan, waiting out one of Abuja's notorious "go-slow" traffic jams. "Name-calling happens a lot. They will make fun of the person, say things like 'This guy's homo,' stuff like that, 'Faggot.'"
And Kingsley said the fear of being tormented for their sexuality infiltrates the social lives of his gay friends. "They don't stay in groups, they'd rather remain not mixing with other gay people, because they don't want other people to be able to say, 'Those guys are gay,'" he said.
Fear Of The Unknown
Kingsley is rare among straight Nigerians in that he has a well-developed sense of the nuances of human sexuality, and he has chosen to understand and accept the gay community rather than deride it for its otherness.
A large proportion of Nigerians draw their intolerance of homosexuality from religious and cultural traditions ranging from fundamental Christian and Islamic teachings to centuries-old tribal norms. But even some highly educated, fairly secular and otherwise progressive Nigerians simply consider homosexuality to be transgressive or against nature, and therefore refuse to accept it.
Typical is Azu, a well-traveled, affluent Lagos businesswoman who simply doesn't believe that a person can be born gay. "Every woman or man is born to be attracted to the opposite sex, but I don't know, if maybe there's a change in [gay people's] brains somehow, there has to be a reason," she posited over drinks. "Being gay is something that develops in a later stage of your life, but whether we believe it or not, all girls are attracted to men growing up."
Azu said she has had several gay friends over the course of her life and that she does to this day, but she still describes gay individuals in condescending terms that illustrate her views on their sexual orientation.
"I haven't met that many gay people, but I find the guys a bit stranger than the girls because it's hard to comprehend a guy acting like a woman. ... For gay guys, it's a bit more crazy when they go 'Eh' or how they eat," she said. "I had a gay friend who used five times as much makeup as I did, but I liked him because he was like a puppy dog."
Aisha said people often question her "decision" to be gay, and that she believes their attitudes represent a critical misunderstanding of the nature of homosexuality. She said she was deeply disturbed when a colleague at the governmental office where she works who is not aware of her sexuality said in a discussion once, "Gays should all be killed," but that such violent remarks are rare in her world, where casual ignorance is much more common.
"One guy said, 'I don't mind when two ugly girls get together, but I mind when two beautiful girls do,'" Aisha said. "A lot of people feel like it's a personal offense if you don't accept a man's advance, no matter if you're gay or straight, because the penis is God's gift to humankind."
Hope Amid The Despair
Persecution of gay Nigerians still leads to violence fairly often, particularly in the country's more rural states. In January, four men were arrested, stripped naked and paraded along a public street in Imo State on suspicion that they were homosexual, as noted by OnlineNigeria News. And in August, an Ogun State man was brutally beaten for allegedly being gay, as reported by the same site.
And the laws aimed at criminalizing gayness and same-sex marriage threaten to codify a new paradigm of heightened intimidation and marginalization for the nation's gay residents.
But for urban Nigerians with enough money, there are some hopeful signs in the face of so much discrimination and misunderstanding.
Kingsley said that in Abuja "things are getting better" as people in the urban center appear to be less concerned with persecuting gays. "You're OK until the authorities catch you in the act of sleeping with or making out with the same sex," he said. "Only then will they go after you. It's only certain individuals who actually bother you or discriminate against you."
Aisha pointed to another promising trend, in which Abuja and certain parts of Lagos can be much safer for moneyed gays than elsewhere in the country, although limitations exist and endure.
"Abuja is the gay capital of Nigeria for the rich kids, but you can't just go into the market totally out. You'll get discriminated against and they'll act out," she said, adding that in more distant, isolated areas of the country, "there's widespread ignorance. If you go to the poor areas, someone will do something about their hate."
And a small but growing number of openly gay activists speak out regularly in support of gay rights in Nigeria without being slammed with lengthy prison terms, although they are still often harassed and attacked by individuals for their outspokenness.
Fatima said that despite all the challenges, life as a homosexual Nigerian can approach normalcy for members of her economic class.
"If you're economically independent, you can be fine being gay in Nigeria," she said. "If I walk into a restaurant and say, 'Shut it down, I'm having dinner with my girlfriend,' they're not going to say, 'Oh, 14 years.' Money talks."
© Copyright IBTimes 2023. All rights reserved.