Gaza: Three More Palestinian Children Killed By Israeli Airstrikes After Five-Hour Cease-Fire Ends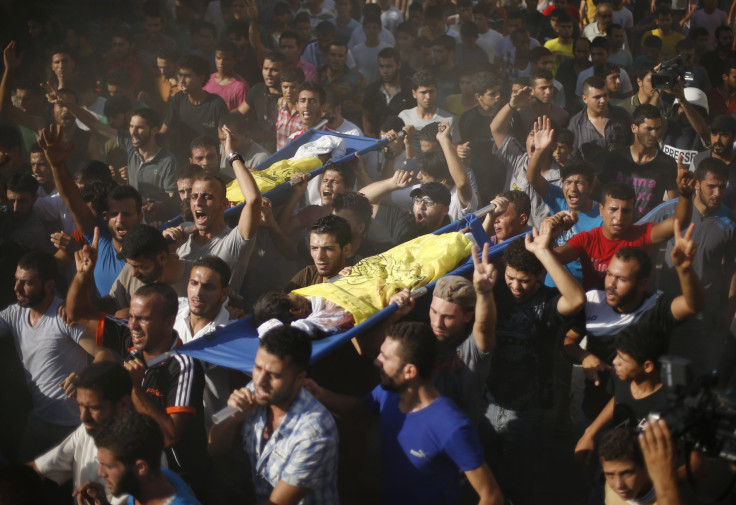 Three more children in Gaza were killed Thursday following renewed Israeli airstrikes on the Gaza Strip, Palestinian officials said. The deaths come just a day after an Israeli naval ship killed four young boys playing soccer on a Gaza beach.
The Thursday strike in the Sabra neighborhood of Gaza City killed "at least three children from the same family," emergency services spokesman Ashraf al-Qudra told AFP. One adult died and seven others were also wounded in the afternoon airstrikes, which came immediately after a temporary five-hour humanitarian cease-fire between Hamas and Israel ended.
The three dead children were identified as Fulla Tariq Shuhaibar, Jihad Issam Shuhaibar and Wasim Issam Shuhaibar, Ma'an News Agency reported. The deaths bring the total number of Palestinians killed over the 10 days of fighting to 234 people, with about 1,700 wounded. So far, one civilian has been killed in Israel. The man died after being hit by a mortar fired from Gaza.
The cease-fire was meant to allow aid into Gaza as Israel faced intensifying pressure from the international community over the rising Palestinian death toll. The five-hour lull ended at 3 p.m. local time and was quickly followed by both more rocket attacks from Gaza and airstrikes from Israel, CNN reported.
© Copyright IBTimes 2023. All rights reserved.