Gennady Golovkin 'Disappointed' After Being Stripped Of IBF Middleweight Title
Gennady Golovkin's promoter Tom Loeffler revealed the WBA, WBC and IBO world middleweight champion was disappointed after he was stripped of the IBF title for failing to face a mandatory challenger.
GGG, as Golovkin is popularly known, had until Wednesday to agree in writing that he would face Ukrainian boxer Serhiy Derevianchenko on or before Aug. 3 to defend his IBF world title following a meeting of three IBF members on May 22.
The agreement to fight the Ukrainian was one of the factors when he was allowed to fight Vanes Martirosyan on May 5 after his fight with Canelo Alvarez was called off after the Mexican was banned for six months by the Nevada State Athletics Commission following two failed drug tests in February.
Golovkin defended his WBA, WBC and IBO titles against Martirosyan in a bout that was not sanctioned by the IBF. The stipulation that allowed him to fight on May 5 needed him to reach an agreement to fight Derevianchenko within a 90 day period or on Aug. 3.
But the Khazakhstan boxer, along with his promoter, failed to submit a written promise of the bout with the Ukrainian which forced the IBF to strip him off his title which he has held since 2015. They will now identify two leading contenders to fight for the vacant IBF title.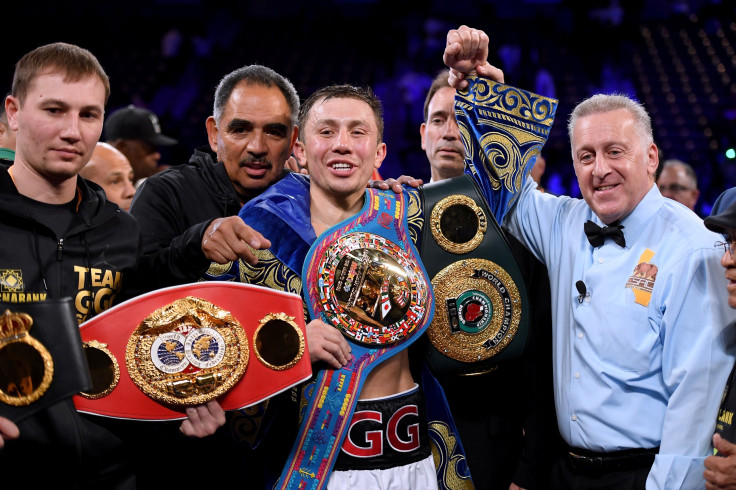 "The president and the championships committee approved the condition that Golovkin agree to fight the IBF middleweight mandatory opponent by August 3, 2018, in order to avoid the penalty of losing his title under Rule 5.H," a statement from the IBF read.
"Since Golovkin has not agreed in writing to fight the IBF mandatory opponent by August 3, 2018, a required condition for the grant of the exception, the request for an exception to Rule 5.H. must now be denied. ... The penalty for Golovkin having participated in an unsanctioned contest within his weight class under Rule 5.H. is that his IBF middleweight title will be declared vacant," it added.
Golovkin and his promoter were shocked at the IBF's decision to strip him of his title. It was a double blow for the top rated pound for pound boxer, according to The Ring, as the news came just one day after it was revealed that a potential bout with Alvarez in September was cancelled.
"It comes as a complete shock that the IBF would make a ruling far beyond what the Derevyanchenko side was asking for," Golovkin's promoter Loeffler told ESPN. "They weren't asking for him to be stripped. They were asking to have their shot at the IBF title next, but they never asked for him to be stripped."
"In light of this ruling, I think the IBF has completely mistreated GGG. It is the worst treatment they have ever shown any unified champion in their history. Gennady is disappointed in the ruling," he added.
© Copyright IBTimes 2023. All rights reserved.