Georgia Vs. South Carolina 2014: Early Prediction, Betting Odds And Preview For SEC Game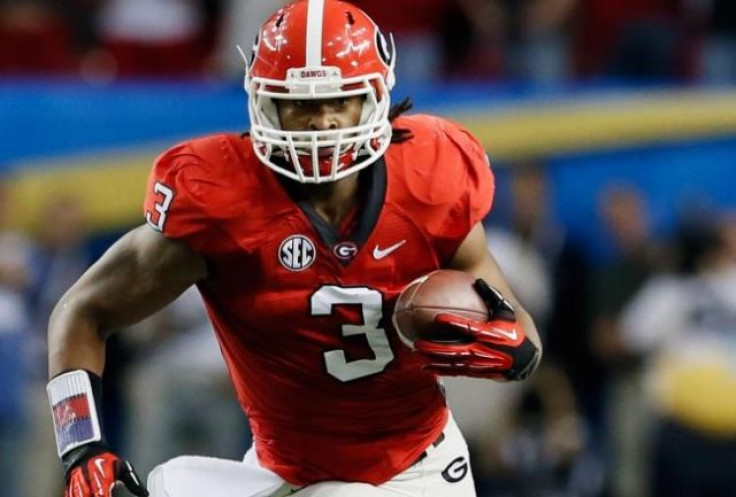 South Carolina entered the 2014 college football season with high hopes, ranking No.9 in the AP Top 25 poll and looking to compete for an SEC championship. Just a few weeks later, the Gamecocks are in danger of starting the year at 1-2 and knocking themselves out of contention for the College Football Playoff.
On Saturday afternoon, Georgia makes a visit to South Carolina in a matchup that will have serious implications in the conference. The two teams are the favorites to win the SEC East, though the Gamecocks already have a loss on the season, having been blown out by Texas A&M in the opener. One more loss would all but eliminate any chance they might have of competing for a national championship.
Georgia hasn't played since Week One, but they looked strong in the opener, easily handling Clemson, 45-21. The victory has helped the Bulldogs make their way to No.6 in the polls, while receiving one vote for the top spot. South Carolina is barely in the top 25, ranking No.24 in the AP Poll.
The Gamecocks will be entering Saturday's contest on the heels of a win, following their 33-23 defeat of East Carolina. Despite a 24-point loss to the Aggies to open the year, South Carolina head coach Steve Spurrier is confident that his team is figuring things out.
"I think we're starting to realize what kind of team we are," Spurrier said. "We're going to have to scratch and get in a bunch of close games and try to find a way to win."
If anything, Georgia's recent history at Williams-Brice Stadium should give South Carolina some confidence. While the Bulldogs have dominated much of the rivalry, they've been completely outmatched in their last two games in South Carolina. In 2010 and 2012, the Bulldogs lost to the Gamecocks, being outscored 52-13.
This time around, however, Georgia could have a lot more success on offense. Heisman Trophy hopeful Todd Gurley was unstoppable against Clemson, rushing 15 times for 198 yards and three touchdowns. In last year's game against South Carolina, the running back ran for 132 yards in an 11-point win.
Georgia could also have an easier time moving the ball through the air. Hutson Mason only threw for 131 yards in the season opener, but he completed 18 of 26 pass attempts and will be going up against the 125th ranked pass defense in college football. The Gamecocks have given up 1,133 passing yards in two games, and the Bulldogs present a different kind of offense than what they saw in the first two games.
"It is completely different from three-four wide receivers just about every play to maybe a two-backs run-it-down-your throat type team," Spurrier said, via the Albany Herald. "Now, whether or not we can match up that way, we've got to find out."
On the road, Georgia is expected to change their fortunes and leave Columbus with a victory. The betting odds at many Las Vegas casinos have the Bulldogs listed as six-point favorites. Despite what the point spread says, Georgia head coach Mark Richt knows that rabid fans and the noise in South Carolina make for a difficult environment to pick up a road victory.
"We are going to have a lot of guys dealing with it for the first time," Richt told the media on Sunday. "Even Hutson Mason, I don't know if he's been in a game that has been quite this loud. The quarterback is the guy that has to be able to handle the noise more than anyone. It is going to be interesting to see how he handles it."
Prediction: They've only played one game, but Georgia has been the better team. Gurley will almost certainly have a strong outing and find his way into the end zone. While the Gamecocks' pass defense has played poorly, Mason is still an unproven commodity. He's never won a road game of this magnitude, and South Carolina's pass defense improved in the second half last week. In the last three seasons, South Carolina has only lost one game at Williams-Brice Stadium, and it came by just three points. With running back Mike Davis leading the way, the Gamecocks still have enough to defeat their long-time rivals at home.
Predicted Score: South Carolina over Georgia, 31-30
© Copyright IBTimes 2023. All rights reserved.