Georgian Court Rejects Ailing Ex-leader Saakashvili's Bid To Leave Jail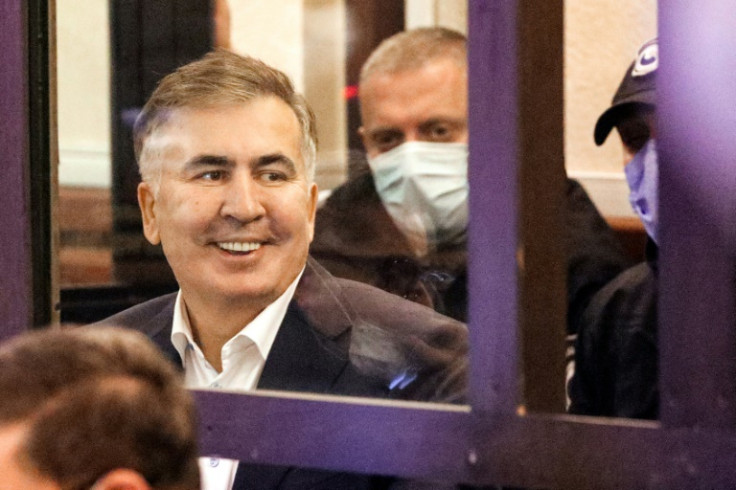 A Georgian court on Monday rejected ailing ex-president Mikheil Saakashvili's bid to get a six-year sentence for alleged abuse of office deferred over poor health.
The 55-year-old pro-Western reformer has been in hospital since last year after refusing food for 50 days to protest his detention, which rights groups say is politically motivated.
The ruling came days after Saakashvili's doctor and lawyer said he risked death due to critical weight loss behind bars.
Saakashvili -- who founded the country's main opposition force -- was convicted in absentia for abuse of office and sentenced to six years in prison in 2018.
He was arrested in 2021, days after secretly returning to the Caucasus country from exile.
On Monday, Tbilisi city court judge Giorgi Arevadze ruled to "reject the petition" by Saakashvili's lawyers to defer the sentence.
Saakashvili's lawyer Dito Sadzaglishvili denounced the verdict as "illegal" while the ex-president's brother Giorgi Saakashvili told journalists the case "will be brought to (the) Strasburg (Court of Human Rights)."
Lawyer Sadzaglishvili told AFP on Friday that "Saakashvili's weight dropped to 68 kilograms (150 pounds) from 115 kilograms" since he was jailed in October 2021.
Doctor Mariam Jishkariani, who has examined him, told AFP that "Saakashvili has cachexia," or muscle loss associated with increased mortality.
"In the absence of proper diagnostics of his underlying condition and of adequate medical care he risks death."
Last week, Saakashvili looked emaciated as he appeared by video link at a court and showed to the judge his protruding ribs and sunken stomach.
Georgian authorities have insisted that Saakashvili is being provided proper care and that his rights are being protected.
Saakashvili was stripped of his Georgian passport after acquiring Ukrainian nationality in 2018 while living in exile.
Kyiv's parliament on Monday passed a resolution calling for Saakashvili's release.
Last week, Ukrainian President Volodymyr Zelensky accused Georgia of "slowly killing" Saakashvili, who served as Georgian president from 2004 to 2013.
Zelensky, who in 2020 appointed Saakashvili to lead a Ukrainian government agency to steer reforms, is demanding his transfer to a clinic in either Ukraine or the West.
Last week, the European Parliament held an urgent debate about Saakashvili's condition.
Moldovan President Maia Sandu said on Friday: "Torturing an opposition leader to death is unacceptable for a country that wants to join the European Union."
A group of US-based doctors have said Saakashvili is suffering from serious neurological, gastrointestinal, and orthopaedic conditions.
They said his health deterioration was a result of "torture" in custody and he required an immediate transfer to a medical centre abroad.
One of the doctors, toxicologist David Smith, also said testing has revealed Saakashvili had been exposed to poisoning by heavy metals while in custody.
The Council of Europe rights watchdog has called for his release, branding him a "political prisoner opposed to (Russian President Vladimir) Putin."
Amnesty International has called his treatment "apparent political revenge."
© Copyright AFP 2023. All rights reserved.