German MPs Worry About Neo-Nazis, But Turkish Drug Gangs May Pose Greater Threat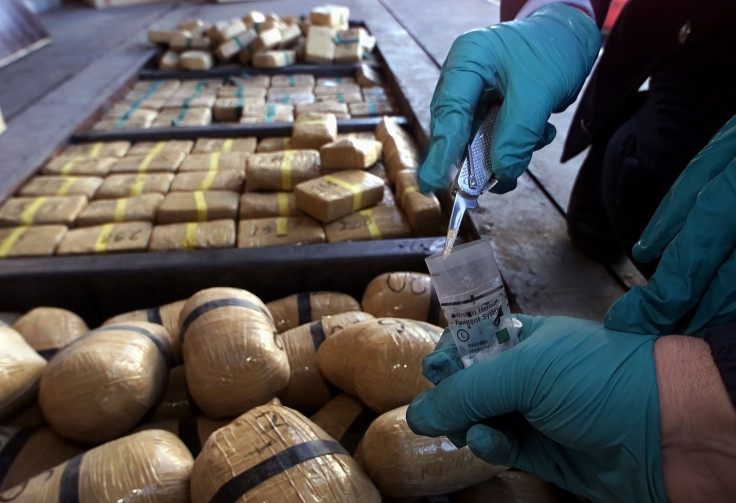 German MPs have called on the government to impose tighter scrutiny and surveillance on neo-Nazis in the wake of the sensational trial of a far-right cell that murdered 10 ethnic Turks and Greeks over a period of seven years.
The cross-party parliamentary group also condemned state security and police agencies for failing to coordinate their intelligence as well as for incompetence.
Beate Zschäpe, the sole survivor of the Nazi gang called the National Socialist Underground that killed the 10, is now facing trial in Munich. Her two alleged male conspirators have already killed themselves.
Sebastian Edathy of the center-left Social Democratic Party called the police investigations into the neo-Nazis as "a historically unprecedented disaster."
Edathy, who is himself of Indian origin, also accused the police of ethnic bias.
"The danger of militant neo-Nazis must never again be underestimated," he said. "I'm pretty sure that, if a leading police investigator had had a Turkish background, investigating authorities would not have taken six years before seriously considering the possibility that racism was the motive."
Under German laws, neo-Nazi organizations, the promotion of Nazi symbols and ideology, as well as Holocaust denial, are all illegal. But Germany's interior intelligence agency (Verfassungsschutz) estimated that the country had about 25,000 extreme right-wing adherents as of 2010, including 5,600 hard-core neo-Nazis.
However, Germany may be facing a much bigger threat – not from the neo-Nazis, but rather from a small segment of the population that they target: Turkish and Kurdish gangsters and criminals.
Germany is home to at least 3 million Turks and a half-million Kurds – many of whom have German citizenship and have lived in the country for decades. The overwhelming majority of these immigrants and their descendants are hard-working and law-abiding, while a small group is involved in extortion, drug trafficking, murder and other typical organized crime activities.
The illegal business of Turkish and Kurdish mobsters in Germany is only a small part of the multibillion-dollar global drug trade involving the smuggling of narcotics, including, heroin from Afghanistan, through Iran, Turkey and the Balkans and into markets in Europe.
"Routes through western Balkan countries remain important for the movement of many illicit commodities into the EU. Heroin and cocaine pass through the western Balkans after transiting through Turkey," stated a 2013 report by the EU Serious and Organized Crime Threat Assessment.
The drug trade not only spawns human trafficking and terrorism, but its massive proceeds are used to purchase weapons, the report added.
"Money laundering also takes place in this region through investment in real estate and in commercial companies," SOCTA noted.
Due to its geographical location, Turkey is a major transit point for both drugs and weapons into Europe – much of which ends up in Germany through the trafficking efforts of both Turkish and Kurdish organized crime figures, as well as other ethnic groups.
The European Union's law enforcement agency, Europol, estimated that some 3,600 organized crime groups are active across the EU, with about one-third of them involved in drug trafficking. The heroin trade is largely controlled by Turks, Albanians and Pakistanis. But Turkish gangs are believed to control about 80 percent of the heroin flowing into Europe, according to reports.
"There is considerable volume of heroin being trafficked via Turkey," Hakan Demirbuken, an officer with the United Nations Office on Drugs and Crime, told Southeast European Times.
"The main beneficiaries are Kurdish and Turkish traffickers. [The outlawed Kurdistan Workers' Party] PKK is estimated to have [a] high volume of income from heroin trade as well."
The International Narcotics Control Strategy Report by the U.S. State Department also indicated that in recent years, many ethnic Kurdish traffickers have expanded operations to larger cities in Germany and elsewhere in Europe
"Most heroin trafficked via Turkey is marketed in Western Europe, where Turkish-based traffickers control much of the distribution," the U.S. report added.
"Turkey also acts as a transit route for opium smuggled overland from Afghanistan via Turkmenistan, Azerbaijan, and Georgia en route to Western Europe."
The passage of large amounts of illegal drugs through the Balkans is facilitated by poor law enforcement, porous borders, and local poverty.
"Criminal groups exploit the fragility of the security institutions and the poor performance of international security presences in particular in the northern part of [Serbia]," Florian Qehaja, executive director of the Kosovar Centre for Security Studies, told SETimes.
Like their counterparts in the Sicilian Mafia, many Kurdish and Turkish drug lords adopt a respectable façade in an attempt to appear as harmless, law-abiding citizens.
A report in the Greek newspaper Kathimerini commented that wealthy Turk mobsters in Europe as well as in Turkey frequently engage in philanthropic endeavors, donate to charities and sponsor sports clubs, often in the guise of shipping or construction magnates. With respect to Germany, EuropeanVoice.com reported the country has some 572 known organized crime groups in operation – 70 percent of which are linked to foreign states, including Turkey.
The Süddeutsche Zeitung newspaper of Munich reported in late 2011 that use of hard drugs in Germany has been falling since 2008, while the use of softer drugs like cannabis remains stable. Nonetheless, drug abuse is a serious problem in the country – some 60,000 children in Germany have parents who are either alcoholics and/or drug addicts. Moreover, at least 30 percent of male prisoners in Germany and up to one-half of female inmates are drug addicts.
In 2010, about 1,200 people died from heroin overdoses in Germany. Overall, the costs related to organized crime to Germany are estimated at about 5.4 billion euros per year, EuropeanVoice said.
Naturally, the massive drug trade also victimizes Turkish immigrants in Germany itself. Spiegel Online reported a few years ago about a group of Turkish women in the Kreuzberg neighborhood of Berlin that organized to fight drug trafficking after so many of their children succumbed to dealing and addiction. Kreuzberg is a popular destination for drug-seekers from other parts of Berlin as well. The group called Mothers Without Borders took action directly against both the drug dealers and junkies that inhabit their neighborhoods by confronting them on nightly patrols.
"Kreuzberg has become a market for drugs," a member of the group told Spiegel. "You can hardly walk 100 meters without being offered everything under the sun."
Unemployment is high in ghettoes like Kreuzberg, a scenario that leads many young Turkish-Germans into the drug trade, as reflected by soaring rates of drug-related crimes by youths.
"It's getting easier to get all forms of drugs -- in the past it was only hashish," said social worker Guner Arkis. "It's different from in the past, because nowadays you get everything from everybody. H [heroin], crack, speed and grass."
Defying the stereotype of Turkish women as meek and mild, the Mothers Without Borders are aggressive and pro-active in rooting out drugs from their proximity. They are also fed up with the indifference to their neighborhood by the police.
"We come from Turkey," Arkis added. "We are not used to waiting until the government does something. … We are always told that the 'administrative effort' is too big to arrest every drug dealer. When we call the police, either they don't come at all or only hours later."
In February 2013, Al-Jazeera reported on a predominantly Turkish street gang in Kreuzberg called the "36 Boys" named after the old postal code of their neighborhood.
Al-Jazeera suggested that such gangs were initially formed to protect the Turkish community from racially biased attacks from Germans (including neo-Nazis) during the late 1980s when reunification of West and East Germany triggered a wave of violence against minorities and immigrants.
Many onetime members of street gangs are now adults who care working to reduce juvenile delinquency in their old districts.
© Copyright IBTimes 2023. All rights reserved.