German State Elections Results 2016: Angela Merkel's Christian Democrats Brace For Refugee Crisis Backlash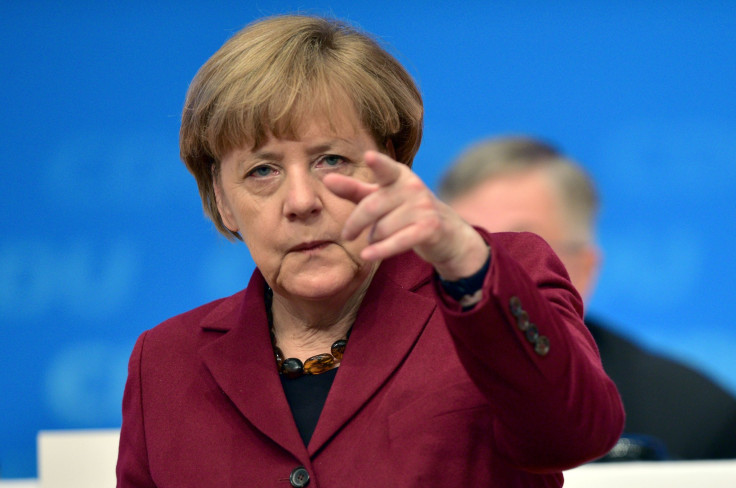 UPDATED 3:38 p.m. EDT — Chancellor Angela Merkel's Christian Democratic Union performed poorly in state elections Sunday, according to projections from the Associated Press. The party lost to the center-left Social Democratic Party in two of the three voting states, while the far-right, anti-immigrant Alternative for Germany Party made gains, posing a challenge to coalition-building.
Alternative for Germany won 14 percent in Baden-Wuerttemberg, 12 percent in Rhineland-Palatinate and an astonishing 24 percent in Saxony-Anhalt.
"We are seeing above all in these elections that voters are turning away in large numbers from the big established parties and voting for our party," Alternative for Germany leader Frauke Petry said, according to AP.
UPDATED 1:24 p.m. EDT — Exit polls from Sunday's state elections in Germany indicated large gains for the anti-immigrant far-right Alternative for Germany party, Deutsche Welle reported. Germans voted for state parliaments in three regions amid ongoing controversy concerning an EU-wide refugee crisis.
Chancellor Angela Merkel's Christian Democratic Union (CDU) was slated to win 29 percent in the Saxony-Anhalt region, followed by Alternative for Germany, which appeared to win 23 percent, while the Left Party polled at 17 percent.
The Social Democratic Party won 37.5 percent in Rhineland-Palatinate, followed by CDU at 32.5 percent and Alternative for Germany at 11 percent.
The Green Party was slated to hold onto power in the state of Baden-Württemberg with 32 percent, followed by the CDU with 27.5 percent and Alternative for Germany with 12.5 percent.
Original Story:
Germans took to vote in three regions Sunday in state elections that will serve as one of the first tests of Chancellor Angela Merkel's leadership in an ongoing refugee crisis. Polls predicted that her Christian Democratic Union would see significant losses among the 12 million voters participating, as the Alternative for Germany party picked up votes on its anti-immigrant stance.
German television channel ZDF showed support for the Christian Democrats in their traditional stronghold of Baden-Wuerttemberg dipping by 10 percentage points to 29 percent, and Alternative for Germany saw 11 percent support, Agence-France Presse reported Sunday. Alternative for Germany saw as much as 18 percent support in Saxony-Anhalt.
More than 1 million people sought asylum in Germany in 2015, with tens of thousands more arrivals predicted for 2016. The vast majority of asylum-seekers are bona fide refugees, according to the United Nations, meaning they are people fleeing violence and persecution. Nearly half of all refugees in Europe are Syrian, as an ongoing violent conflict has left hundreds of thousands dead and millions of people displaced in the country.
Merkel announced an open door policy in late August 2015, saying there was no limit to the number of refugees Germany would welcome. While many citizens at first lauded the policy, greeting newly arrived asylum-seekers with candy and supplies at train stations, the mood toward refugees began to sober throughout the year, as the nation faced increasing obstacles in resettling more than 1 million people.
"These elections are very important ... as they will serve as a litmus test for the government's disputed policy" German political scientist Jens Walther told AFP.
A highly publicized incident New Years Eve in Cologne further turned public opinion against the refugee population in Germany. A group of men, some of whom were asylum-seekers, attempted to rob and sexually assault dozens of women during the festivities, and the incident shocked many people throughout the country.
© Copyright IBTimes 2023. All rights reserved.