Germans Warn Cyprus After Bailout Rejection; A Russian Rescue?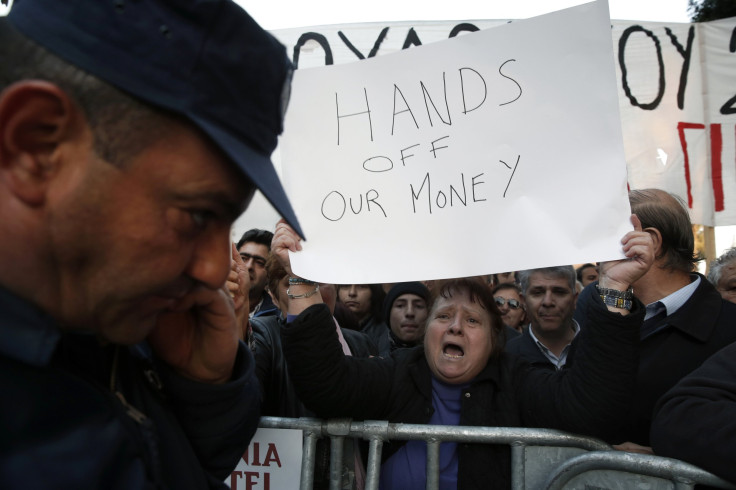 Germany's finance minister warned Cyprus Tuesday night that its banks may never be able to reopen if it rejects the terms of a bailout.
Wolfgang Schaeuble said major Cypriot banks were "insolvent if there are no emergency funds," the BBC reported.
Schauble said he "regretted" the vote of the Cypriot Parliament Tuesday afternoon that rejected the "troika" bailout plan, which would seize up to 10 percent of bank accounts.
"The European Central Bank has made it clear that without a reform program for Cyprus the aid can't continue. Someone has to explain this to the Cypriots, and I think there's a danger that they won't be able to open the banks again at all," he said.
"Two big Cypriot banks are insolvent if there are no emergency funds from the European Central Bank," Schauble added.
Frantic talks are under way to try to find an alternative plan, the BBC reported.
Leaders of political parties are due to meet Wednesday after parliament rejected the controversial levy, proposed as part of a 10 billion euro ($13 billion) bailout package.
Luxembourg Finance Minister Luc Frieden called for the 17 euro area finance ministers to reconvene "as soon as possible" to cobble together a new package, Bloomberg reported. The ECB, whose board meets Wednesday in Frankfurt, will also have to decide whether to give Cyprus more time or consider cutting off liquidity to the country's banks.
"This is not a good result -- neither for Cyprus, nor for the euro zone, and we have to look together for alternatives to the negotiated package," Frieden told Bloomberg News. He called the vote "very sad news," though said the decision by its parliament must be respected.
Meanwhile Gazprom, the giant Russian energy company, has offered a private bailout plan, The New York Times reports. Rather than the hated tax on bank deposits, Cyprus could raise money to right its economy by selling Gazprom exploration rights to offshore gas deposits in the Mediterranean Sea.
Gazprom refused to confirm it even made an offer. Gazprom already has vast gas deposits in Siberia. But the emergence of an independent gas industry in Cyprus could further undercut Gazprom's monopoly pricing power in Europe, already threatened by the global gas glut from the American shale gas boom.
Ownership of Cyprus's promising though undeveloped reserves would keep potential competitors from obtaining them and ensure a supply of gas — and Gazprom's continued power over Europe — for years.
Gazprom, the world's largest natural gas company, accounts for about a tenth of Russia's gross domestic product as it earns billions of rubles by providing Europe with about 40 percent of its imported gas.
Cypriot Finance Minister Michalis Sarris flew to Moscow on Tuesday night, and President Anastasiades held a phone conversation with Russian president Vladimir Putin, Time magazine reported.
© Copyright IBTimes 2023. All rights reserved.