Germany Coronavirus Cases Surge As Some Businesses Reopen
KEY POINTS
In Germany, 6,314 people have died out of 159,912 reported cases, a 3.95% death rate
Germany is also performing better on a per-capita basis with infection rates at about 1,900 cases per million people
Chancellor Angela Merkel urged Germans last week to show endurance and discipline to get through the coronavirus pandemic that she said is "still at the beginning"
A slight surge in Germany's COVID-19 infection rate is causing concerns about the easing of restrictions and the reopening of some businesses. Compared to other European countries, Germany has done a good job of handling the pandemic and keeping the death rate low.
The latest statistics from Worldometer, a popular statistical reference website, shows that in Germany, 6,314 people have died out of 159,912 reported cases, a 3.95% death rate. The combined rate for Italy, Spain, France, and the UK is 12.69%. The rate in U.S. is 5.72%.
Germany is also performing better on a per-capita basis with infection rates at about 1,900 cases per million people compared to 3,200 per million for the European countries and the U.S. Cultural differences are one possible explanation.
Lothar Wieler, president of the Robert Koch Institute for infectious diseases offered up another statistic called the virus reproduction rate or "R". This number is an indication of the speed of contagion based on the ratio of one infected person to the number of new cases. Earlier in the month, the R was at 0.7 meaning that 100 infected people spread the disease to 70 people. The R has risen to 1.0 in recent days.
Wieler urged people to stay at home and continue social distancing to maintain Germany's relative success even as some businesses are reopening. He said at a regular news conference, "Against the background of the easing (of restrictions), let's ensure we can continue to defend this success we have achieved together. We don't want the number of cases to rise again. Let's, insofar as is possible, stay at home, let's stick to the reduced contact."
He added, "The number (R) should stay below one, that is the big goal. The further it is below one, the more secure we can feel, the more leeway we have, but there are other numbers that are also important," referencing the number of cases per day and testing capacity.
Chancellor Angela Merkel urged Germans last week to show endurance and discipline to get through the coronavirus pandemic that she said is "still at the beginning".
German retail businesses are pushing for a May 4 date to reopen, normally reporting that some smaller shops allowed to open earlier had not seen a horde of customers storming back to shop and those that did were behaving prudently.
Germany's reopening will be observed closely in the U.S. President Donald J. Trump, some governors as well as businesses are anxious for the country to return to work. Other governors are hesitant over fears of a pandemic encore or their states becoming known as another epicenter of COVID-19.
The urgency to re-open seems to be based on a partisan basis with Republican governors more in favor of it than Democratic governors. The success or lack of it in Germany's approach could alter the thinking of some.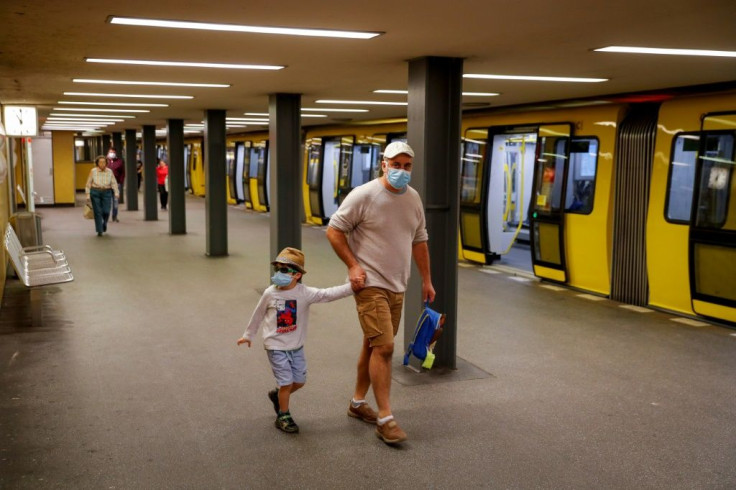 © Copyright IBTimes 2023. All rights reserved.