Giambi beats the Yanks 4-2--was his departure from the Bronx a mistake?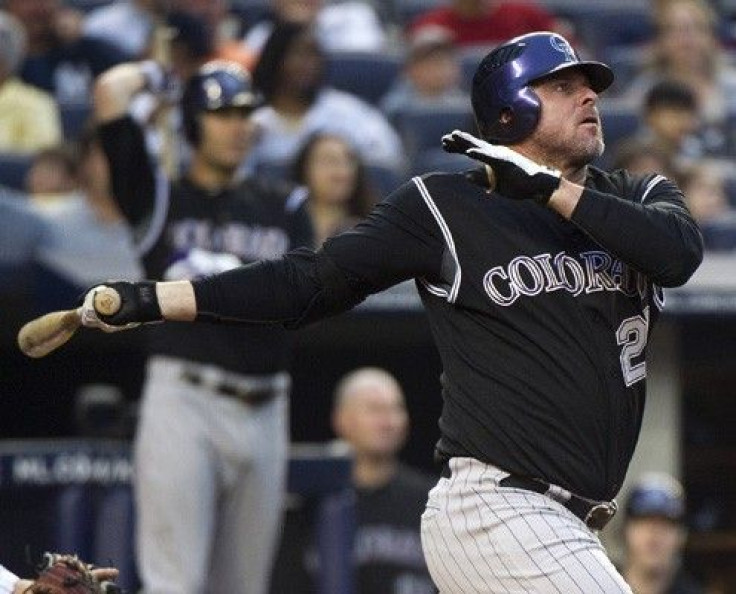 Jason Giambi hit a solo home run and got on base with a walk, allowing him to score on a Ty Wiggington grounder as the Colorado Rockies beat the New York Yankees last night 4-2. Giambi's two runs were the difference in the Bronx last night, but would he have made the difference last year when New York was booted out of the playoffs by the Texas Rangers in six games?
Considering Marcus Thames was the designated hitter in the last two games of that series and went 0-6 with five strikeouts, and Lance Berkman wasn't much better in the first four games, one would be tempted to say yes.
Yes, Giambi is 40 years old. But last year, at age 39, he played first base in 111 at-bats and served as a pinch hitter in 34 more, earning a batting average of .235 and an OPS of .798. This year, he is being used sparingly by the Rockies, showing up at the plate just 34 times as a first baseman and 15 times as a pinch hitter/DH. Meanwhile, in the Bronx, designated hitters gave the Yanks a .256 batting average and a .777 OPS in 2010, mainly from Thames.
Yankees general manager Brian Cashman may have been looking down the road and seeing Jorge Posada at the DH spot when he let Giambi walk to the Oakland Athletics in 2009. Giambi's sordid past with steroids, and his wooden fielding at first base--and the hardship his big contract placed on New York for seven years--probably made the Yanks feel like it was time to let go of their half of the Bruise Brothers, and go younger (and cheaper). But as Posada flirts with the Mendoza Line, struggling to keep his batting average above .200, and Giambi is used smartly by Rockies skipper Jim Tracy and responds by raking a .292 BA and a 1.082 OPS, Yankee fans have to feel wistful about seeing the Giambino in a Colorado uniform.
Certainly the Bleacher Creatures did last night--they honored him with inclusion in their roll call in the first inning.
© Copyright IBTimes 2023. All rights reserved.