'Give Me Air To Breathe': Greek PM Pleads For Time Ahead Of EU Charm Offensive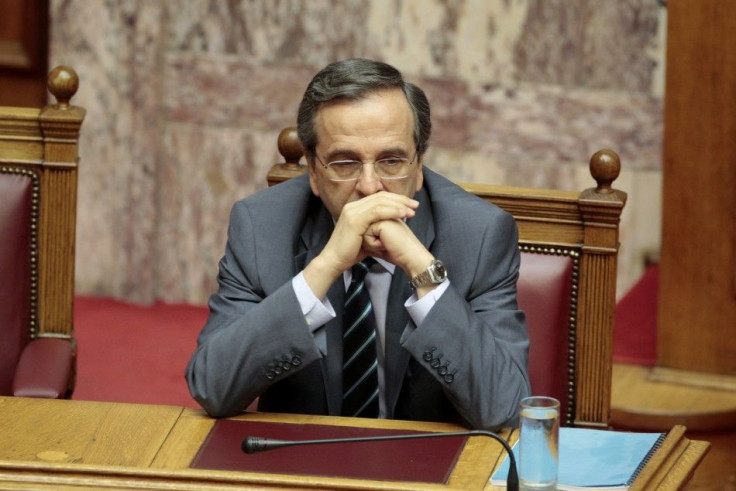 By Lianna Brinded and Oliver Tree
Greek Prime Minister Antonis Samaras has begged for "breathing room' as he embarks on a European charm offensive to secure more time to push through a package of stringent austerity measures.
Samaras faces a tough few days as he tries to persuade European leaders, starting on Wednesday with Eurogroup finance head Jean-Claude Juncker, that Greece has the political will to follow through with deeply unpopular public sector job and spending cuts.
Both Juncker and German Chancellor Angela Merkel, who Samaras will meet on Friday, are under enormous political pressure to act tough with Greece and are expected to offer little room for renegotiation.
"All we want is a bit of 'air to breathe' to get the economy running and to increase state income," Samaras told German daily, Bild.
"More time does not automatically mean more money."
"Let me be very explicit: we demand no additional money. We stand by our commitments and by fulfilling all our requirements. We have to crank up growth because that decreases the financial gaps," he added.
The EU and International Monetary Fund (IMF) have provided Greece with two tranches of bailout funding worth €240bn (€190bn), on the condition that the country fulfils its pledge to deliver a series of public spending cuts.
Greece is now due for a fresh tranche of funding worth €31.5bn, but this will only be proffered if the Eurogroup ministers are satisfied that the country can fulfil its latest pledges - which include cutting public spending by €11.5bn over the next two years.
If Greece fails to receive the next round of bailout money, it could be forced to default on its debt and leave the Euro.
During the forthcoming meeting, Juncker is expected to tell Greece that it has to carry out the promised austerity measures in order to receive further bailout funds, and that there will be little leeway for concessions - despite Samaras's plea for a deadline extension.
Several German government officials have said that the country will not soften its demands on Greece, which has already been bailed out twice. Yet some German sources are now saying that concessions could be possible, as long as Samaras shows a willingness to meet the main targets set out in his country's bailout program.
It is thought that Greece's public spending cuts will need to be even greater than those recently promised. Given that the cuts will lead to thousands of job losses, which will in turn reduce tax revenues, experts claim the Greek government will actually have to make cuts worth €13.5bn.
Greece teeters on the brink of collapse after being in recession for four years and will need more money to stay afloat, despite pledging to push through €11.5bn of cuts over the next two years, tax rises, and labour market and pension reforms.
© Copyright IBTimes 2023. All rights reserved.