GM Posts Record Profit, Two Years After Bankruptcy and Near Collapse
STOCK SOARS; Results Tempered by European Losses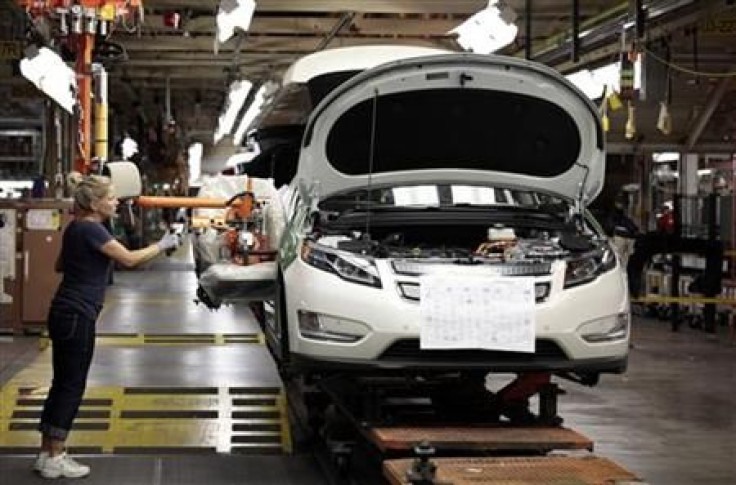 Shares of General Motors Co. rose more than 6 percent Thursday after the nation's biggest carmaker posted a record profit in 2011, adding to the automaker's dramatic turnaround just two years after filing for bankruptcy and nearly collapsing.
At the closing bell, GM shares soared almost 9 percent to $27.17.
GM said Thursday it earned a record $7.6 billion in 2011, which was up 62 percent from 2010. At the same time, expectedly small profit margins in the fourth quarter and huge losses in its European sector and Opel unit tempered full-year results.
In our first full year as a public company, we grew the top and bottom lines, advanced our global market share and made strategic investments in our brands around the world, said Dan Akerson, chairman and CEO. We will build on these results as we bring more new cars, crossovers and trucks to market, and make GM a far more efficient global team. This includes reducing our break-even level in Europe and South America and driving higher revenues around the world.
Revenue in all of 2011 increased 11 percent to $150.3 billion, compared to $135.6 billion in 2010. Full-year earnings per share jumped from $2.89 to $4.58. Analysts surveyed by Reuters had expected earnings per share of $4.02 and revenue of $149 billion.
But fourth-quarter profit fell 48 percent to $725 million, the lowest number for GM since it emerged from a bankruptcy restructuring managed and partially funded by the U.S. government. Fourth-quarter revenue increased 3 percent to $38 billion.
GM saw record profits largely because of impressive success in its North American sector. GM's profit was up in North America from $5.7 billion in 2010 to $7.2 billion last year. Profit in the fourth-quarter jumped from $813 million to an astounding $1.5 billion, almost doubling. GM recently became the world's top-selling automaker largely due to increases in North American sales. Overall, sales rose 7.6 percent as GM sold more than 9 million vehicles worldwide.
GM had a good year in the U.S., Michelle Krebs, a senior analyst at Edmunds.com, said before GM released its results. Lower incentives, improved sales volume, increased market share, those are all a winning formula.
But GM' s good year was hampered by huge losses in Europe, largely attributable to its Opel unit. In fact, China and North America were its only profitable sectors last year. GM said its European operations lost $747 million in 2011. That's actually a marked improvement from a $1.76 billion loss in 2010, but GM had forecasted breaking even in the continent until November. GM's European sector lost $562 million in the fourth quarter alone.
At the same time, analysts don't predict the economic calamity in Europe to reverberate any time soon. GM has already closed a plant in Belgium, but Krebs said that's not enough.
It's a mess, Krebs said of GM's European situation. GM's back is against the wall on Opel. It just is going to have to do something there. So I think we will see something coming in that regard.
In a related matter, GM said Wednesday it would eliminate traditional pensions and freeze salaries for U.S. salaried employees. but it will also offer salaried employees an extra week of vacation and a chance for larger bonuses.
The whole philosophy is to allow our employees to share the success of the business, said Katie McBride, executive director for GM communications, in a phone interview Wednesday afternoon. But it's also about helping GM grow profitably and strengthening the balance sheet.
© Copyright IBTimes 2023. All rights reserved.