Gold Near 3-1/2 Month High on ECB Hopes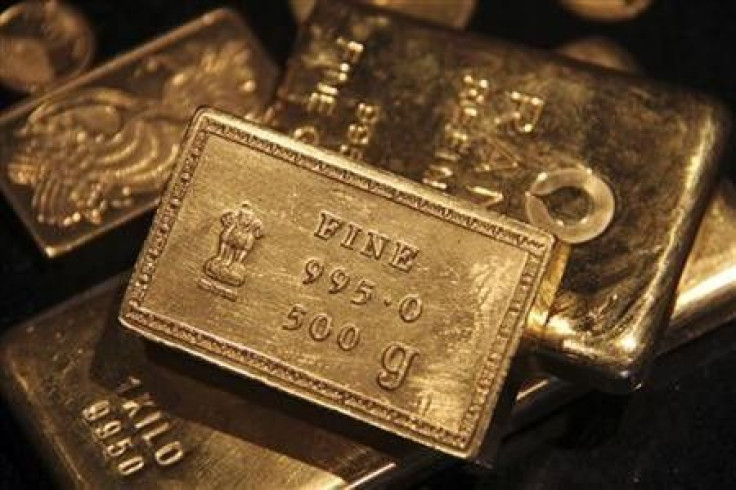 Gold on Wednesday hovered near a 3-1/2 month high hit in the previous session, as investors remained hopeful the European Central Bank would soon take action to contain the region's debt crisis.
Recent media reports said the ECB has been mapping out details to cap Spanish and Italian borrowing costs, easing investor worries about the euro zone's festering problems, though the bank tried to quash such speculation.
The prospect of ECB intervention pushed Spanish, Italian and Portuguese yields down, and fuelled interest in gold, a hedge against rampant cash printing by central banks.
"We are getting sick and tired of the crisis. We want to get rid of it," said Dominic Schnider, an analyst at UBS Wealth Management.
Though expectations for further monetary easing in Europe are high, Schnider warned there is still a risk the U.S. Federal Reserve could disappoint investors, as it may give few hints on more bond purchases at its next policy meeting in September.
Gold is poised to test its 200-day moving average, at $1,642.57, ahead of the central bank symposium in Jackson Hole, Wyoming, at the end of August, he added.
Later in the day, investors will seek clues on the Fed's attitude towards a third round of quantitative easing in minutes from the latest Federal Open Market Committee gathering.
Spot gold was little changed at $1,638.49 an ounce by 0308 GMT, after hitting $1,641.20 in the previous session, its highest since early May.
The U.S. gold futures contract for December delivery edged down 0.1 percent to $1,641.20.
Reuters market analyst Wang Tao said technical indicators suggested spot gold could rise to $1,647, with any break above that level possibly propelling prices to $1,664.
BACK TO LIFE
Rising holdings of exchange-traded gold funds also reflect improved sentiment. Holdings of the SPDR Gold Trust, the world's biggest gold ETF, have been climbing continuously since the end of July and hit 1,278.962 tonnes by August 21, the highest level since early July.
Asia's physical gold market has sprung into life as prices break out of their range since May.
"There has been quite a bit of scrap selling coming out of Thailand," said a Singapore-based dealer. "We are finally out of the previous range and that will help stimulate more activity."
Spot platinum gained 0.2 percent to $1,503, extending gains to a fifth session, as concerns about supply shortfall from South Africa remained after violence at a mine there.
© Copyright Thomson Reuters 2023. All rights reserved.