Golden State Warriors' Dynasty Back On Track After Two-Season Slump
KEY POINTS
The Warriors won their fourth title after a stellar six-game series against the Celtics
Few believed the Warriors would win a title without the services of Kevin Durant
Stephen Curry won his first NBA Finals MVP
The Golden State Warriors are back on the mountaintop after two years of disappointing season by downing the Boston Celtics in six games in the NBA Finals.
Entering the 2021-22 NBA season, few believed that the Warriors were even going to make it past the Western Conference Finals as early predictions saw them being embroiled in a seven-game war of attrition with last season's conference champions Phoenix Suns.
This would not come to pass though as the Suns were unceremoniously ousted from the playoffs by the Dallas Mavericks in the second round after a Game 7 blowout.
Their march to the top of the league was not without difficulty.
A season after their crushing defeat to the Toronto Raptors in the 2019 NBA Finals, the Warriors were forced to swallow their pride and endure a 15-50 season in the pandemic-shortened 2019-20 season.
As an eighth seed last year, the Warriors became a victim of the newly-instituted play-in tournament after being knocked out by the LeBron James-led Los Angeles Lakers.
The circumstances could not be any wilder for the once-dominant Warriors as they had to rebuild from the ground up with a new group of players supporting their core of Stephen Curry, Klay Thompson and Draymond Green.
Guys like Andrew Wiggins, Gary Payton II and Otto Porter Jr. were brought in to help shore up their deficiencies on both ends of the ball, while Jordan Poole certainly came into his own.
Injuries to Curry and Thompson in the 2019-20 season allowed Poole to step up to the plate and take the opportunity presented by fate upon him, becoming one of the hottest hands in the NBA if given the space to create shots.
Another criticism that was levied against them was that the Kevin Durant era proved they could not win without having an extremely stacked roster.
As many saw this season, this notion would not have any legs to it as the Curry-led offense would go on to demolish their opponents in spectacular fashion thanks to their patented third-quarter runs.
For his efforts, Curry would receive his first NBA Finals MVP trophy after four titles.
With their fourth title in tow, the Warriors dynasty may be back on track after a disappointing, but ultimately necessary, two-season slump.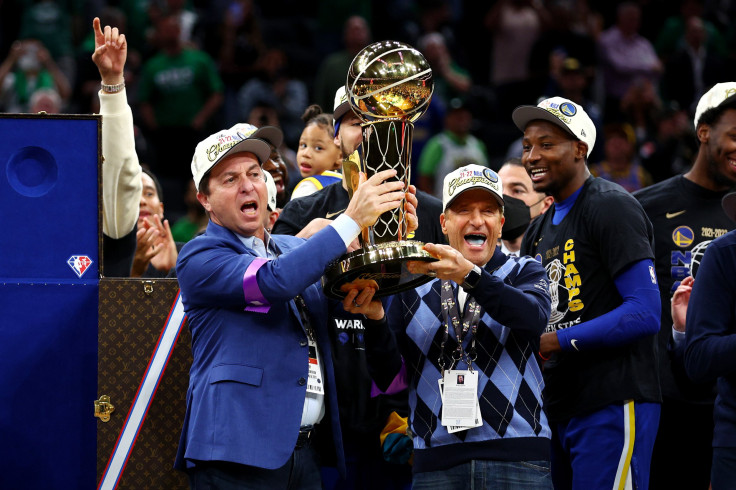 © Copyright IBTimes 2023. All rights reserved.