Golden State Warriors Schedule: 5 Upcoming Games, TV Channels As Warriors Seek Record Wins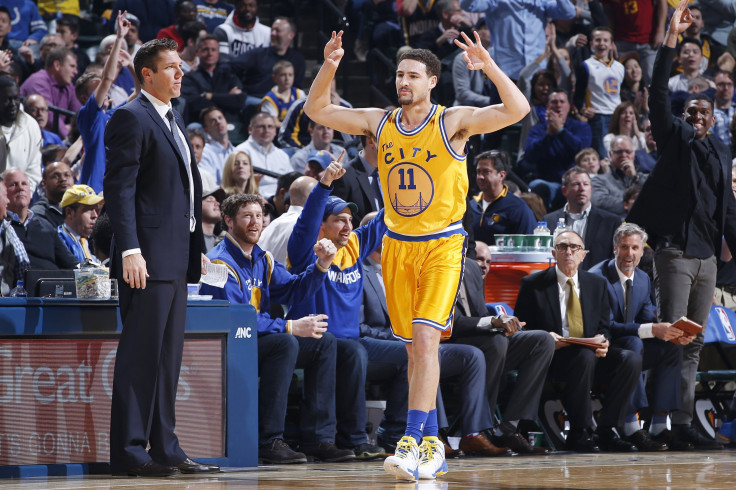 After pasting the Indiana Pacers behind shooting guard Klay Thompson's 39 points, the Golden State Warriors forge ahead with their 27-game winning streak and inch ever closer to the NBA's all-time record.
Some believed the Pacers, one of the top teams in the Eastern Conference, could derail Golden State's blistering tear through the league but the game wasn't nearly as close as the 131-123 final score suggests. The Warriors exploded for 44 points in the first quarter to take a 14-point advantage and extended the lead to as much as 32 points in the third before Indiana made a late rally with a little over seven minutes left in the one-sided contest.
Hot shooting was once again the main reason behind Golden State's success. They launched 35 three-pointers and hit 16 of them, bettering their accuracy on the season to 43.8 percent, and shot 54.7 percent overall from the field and continue to rank first in the NBA in both categories.
Throughout the streak the Warriors have dropped opponents by an average of 13.3 points per game, claiming 15 games by 10 or more points and three by 20 or more, and they don't seem perturbed or shaken by hostile crowds. Of their 27 straight wins, 13 have been on the road and in order to keep the streak alive and threaten the all-time mark the Warriors need just two more road victories.
Currently in the closing stages of a seven-game road trip, Golden State can overtake the 2012-2013 Miami Heat's record for the second-longest regular season winning streak in NBA history by beating the Boston Celtics on Friday night followed by a visit with the Milwaukee Bucks on Saturday.
Afterwards Golden State will have four days off and then begin a five-game home stand as it tries to match the 1971-1972 Los Angeles Lakers record 33-game streak.
The time off could serve the Warriors and Thompson some good, especially after back-to-back nights against Boston and Milwaukee. During the streak Golden State's played on consecutive nights just three other times, and on the last occasion the lowly Brooklyn Nets nearly stunted the historic run.
Four days ago, the Warriors needed point guard Stephen Curry to score 16 of his 28 points in the fourth quarter to put the Nets down, just one night after Toronto's upset bid was spoiled by Curry's 44-point night.
Thompson also suffered an ankle sprain in the final minute of play against Indiana, and while he was at practice on Thursday he's listed as a game-time decision against the Celtics.
"It's not feeling great, but it's not feeling bad," Thompson said. "It's like somewhere in between. It's like 60 percent -- nah, 70."
Here is a look at the Warriors schedule, and NBA TV may also provide live in-game coverage during nightly broadcasts.
Warriors Next Five Games
Friday, Dec. 11 at Boston (CSN Bay Area, CSNHD)
Saturday, Dec. 12 at Milwaukee (CSN Bay Area, FOX Sports Wisconsin)
Wednesday, Dec. 16 vs. Phoenix (ESPN, CSN Bay Area, FSAZ)
Friday, Dec. 18 vs. Milwaukee (CSN Bay Area, FOX Sports Wisconsin)
Wednesday, Dec. 23 vs. Utah (CSN Bay Area, ROOT)
© Copyright IBTimes 2023. All rights reserved.