Golden State Warriors vs. OKC Thunder Game 5: Prediction, Betting Odds As Warriors Face Elimination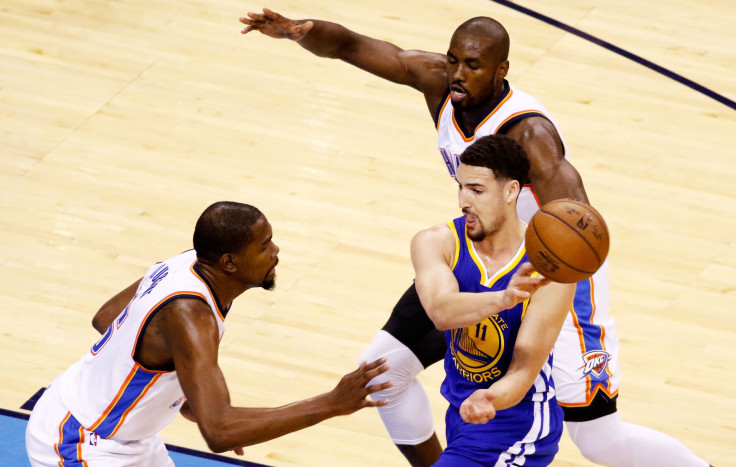 The Oklahoma City Thunder were supposed to challenge the Golden State Warriors, and possibly force a Game 7 in the Western Conference finals. But they've done much more than that, absolutely dominating the defending champs, pushing them to the brink of elimination ahead of Game 5.
Through four games, it's the Thunder that look like the team that set an NBA record with 73 wins in the regular season. Blowing multiple 14-point leads in Game 1 and losing by 52 combined points in Game 3 and Game 4, the Warriors look like the team that finished 12 games behind the West's No.2 seed and had been dealing with questions about their superstar leaving in free agency for greener pastures.
Trailing the series 3-1, Golden State heads back home for Game 5 on Thursday, hoping to extend the series and etch their name in NBA history. After losing three of the first four games of a seven-game series, NBA teams have a 9-223 record.
"The series isn't over," Curry said after Game 4. "We've got to believe in ourselves. There's obviously frustration. It's a terrible feeling once again not stepping up and being ourselves and playing our game.
"But I think we're a special team. This isn't how we're going to go out."
If any team can come back from a 3-1 deficit, it might be this Warriors team, who went 3-0 against the Thunder in their record-setting regular season. The Houston Rockets pulled off such an attempt just one year ago, and there wasn't much special about that team. Houston went on to lose to the Warriors in five games in last year's conference finals.
But the 2016 Thunder are not the 2015 Los Angeles Clippers that Houston defeated in the second round. With Stephen Curry struggling and Draymond Green failing to make a serious impact on both sides of the court, Golden State looks to be overmatched. Oklahoma City has been too big, too long, and too fast for the Warriors.
The Thunder seem to have put it all together at the right time, winning seven of nine games against the Warriors and the 67-win San Antonio Spurs. They might be too good to blow a 3-1 lead, and unless something drastically changes, they'll punch their ticket to the NBA Finals on Thursday night.
Golden State hasn't had any answers for Kevin Durant or Russell Westbrook, who are averaging a combined 55.8 points per game. Durant has been especially good defensively, blocking three shots apiece in both games in Oklahoma City. Westbrook has totaled at least 11 assists in all four games, culminating with a triple-double on Tuesday.
If Durant and Westbrook are going to continue to play like superstars, the Warriors can't win without an MVP-like effort from Curry. The point guard had a flash of brilliance in Game 2 when he scored 15 points in less than two minutes, but for the most part, he's performed nothing like the 79-game stretch that made him the league's first ever unanimous MVP. Whether his knee injury is a factor or not, the Thunder seemed to have found a way to neutralize Curry's impact, forcing him to work hard on the defensive end and being physical with him when he doesn't have the ball.
Curry couldn't buy a basket in the paint in Game 4, and the Thunder's big men have allowed few easy shots to anyone on the Warriors, changing the complexion of the series. Oklahoma City totaled 16 blocks in their two straight blowout wins, outrebounding Golden State by 33.
All season long, Golden State's "death lineup" has been their great equalizer. Opposing teams were punished for going big, unable to guard the quick lineup that gave the Warriors five three-point shooters. But putting Green at center, Harrison Barnes and Andre Iguodala at the two forward positions and Curry and Klay Thompson in the backcourt has been a disaster for Golden State. The lineup has been outscored by 39 points in 19 minutes over the last two games.
What's left for coach Steve Kerr and the Warriors to do? Kerr may need to keep his fingers crossed for Curry to regain his shot and for Westbrook cools off. It would also help for Green to rediscover his regular-season form, which he seemed to lose with that now infamous flagrant foul to Steven Adams in Game 3.
"Right now, I'm not myself. I'm thinking too much, and that's leading to all the things that I'm not supposed to be doing," Green told The Veritcal on Tuesday.
"I just … I just have to be me."
Draymond Green Playoff Game Stats in 2015-16 | PointAfter
Losing two straight games by such wide margins, it's hard to imagine Curry, Green and the Warriors playing that poorly in Game 5 with their playoff lives on the line. But the same could've been said after Game 3, and Game 4 wasn't any better. The Warriors hadn't lost consecutive games all year, and now they've lost three out of their last four.
It's hard to fathom that the Warriors, winners of 73 games in the regular season and last year's championship, could go out like this. The same was said about the heavily favored Los Angeles Lakers in the 2004 NBA Finals, but they went down without a fight in Game 5 against the Detroit Pistons. LeBron James and the Miami Heat were blown out in Game 5 to end the 2014 NBA Finals, despite having won consecutive championships.
The oddsmakers give Golden State a significant advantage back at home. The Warriors are 7.5-point favorites, via VegasInsider, and the over/under is 219.5 points.
Maybe the Warriors will rebound and play like the team that was considered by some to be the best ever, but all signs point to Thursday being the end of the line for Golden State.
Prediction: Oklahoma City over Golden State, 110-104
© Copyright IBTimes 2023. All rights reserved.