Golden State Warriors vs. San Antonio Spurs Game 2: Start Time, TV Channel, Live Stream Info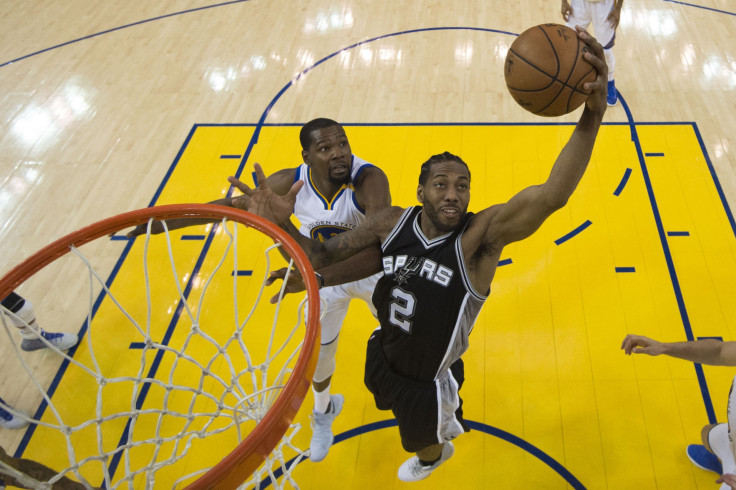 The Golden State Warriors and San Antonio Spurs are set to go back at it just two days after competing in one of the most exciting games of the 2017 NBA Playoffs. Game 2 of the Western Conference Finals is set for Tuesday night, and the Spurs will likely take the court without the banged up Kawhi Leonard.
Game 2 is set to start at 9 p.m. EDT, a half hour after the NBA draft lottery gets underway to determine the order of the top 14 first-round picks. ESPN will have the TV coverage of both, and each event can be seen with a free live stream online with WatchESPN.
Leonard will go down as one of the greatest steals in the history of the draft, going just outside of the lottery at No.15 overall in 2011. He's become one of the league's best players, and his absence could end any chance the Spurs had of pulling off the upset.
The 2014 NBA Finals MVP was magnificent in 24 minutes in Game 1, playing just five days after spraining his left ankle. Scoring 26 points on 13 shots and leading San Antonio to a 23-point lead, Leonard re-injured the ankle and was forced to leave the contest for good when he took a shot and landed on the foot of Warriors center Zaza Pachulia.
An MRI revealed no structural damage, though Leonard is considered doubtful for Game 2.
Spurs head coach Gregg Popovich was irate when discussing the play Monday, confirming the belief of many that Pachulia's closeout was dirty.
"The two-step lead with your foot closeout is not appropriate," Popovich told reporters. "It's dangerous, it's unsportsmanlike, it's just not what anybody does to anybody else. And this particular individual has a history with that kind of action."
Pachulia has gotten a reputation for being a dirty player throughout his NBA career, though Popovich wasn't all that concerned with whether or not the center tried to injure Leonard.
"Who gives a damn what his intent was?" Popovich said. "Have you ever heard of manslaughter? You still go to jail, I think, when you're texting and you end up killing somebody, but may have not intended to do that. All I care is what I saw. All I care about is what happened. And the history there exacerbates the whole situation and makes me very, very angry."
After Game 1, Leonard said that he didn't think Pachulia meant to hurt him. Pachulia defended his actions Monday, claiming he guarded Leonard the right way.
"[The criticism] doesn't bother me," Pachulia said. "I did whatever I had to do. That was the right defense from my side. I had to challenge the shot. I wish he didn't land on my foot and honestly and I had no idea he landed on it until I turned back and he was already on the ground."
The Spurs do have some semblance of hope, given that they beat the Houston Rockets by 39 points without Leonard to clinch their second-round series. Winning against the odds-on favorites to win the title without their star player, however, is an even more difficult challenge.
© Copyright IBTimes 2023. All rights reserved.