Golf Wunderkind Rory McIlroy Struggles at the British Open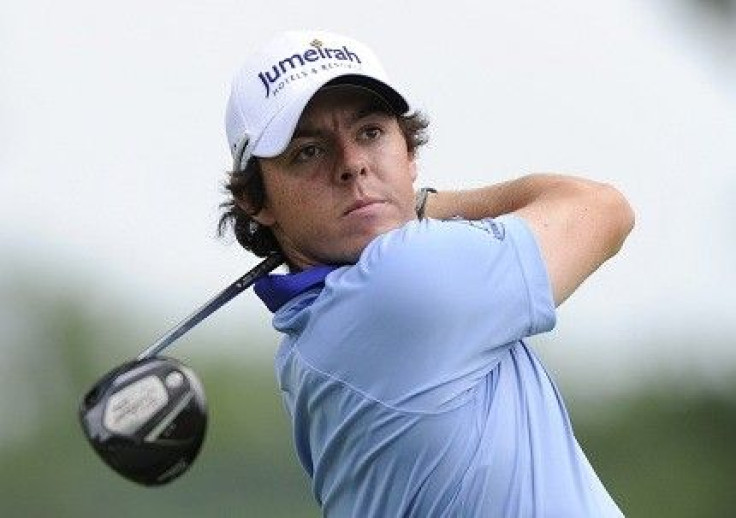 From now on, Rory McIlroy can expect to live with great expectations and the feelings of disappointment that come when you don't live up to them every single time.
McIlroy, the Northern Ireland wunderkind, is shooting four over par at this weekend's British Open. This has him tied with several others for 26th place and pretty much out of contention for the win. Leading the pack currently is American Dustin Johnson and McIlroy's fellow Northern Irish golfer Darren Clarke.
McIlroy was only four strokes back from Clarke, Johnson and the leader board, entering Saturday. However on the 14th hole at the Royal St. George course, McIlroy double bogeyed and crushed his chances of making a comeback. Once McIlroy putted in a shot in that 14th hole, his body language indicated that he knew he was not going to win this time. McIlroy pulled his hat over his eyes and shielded his face.
I mean you've done so well for 13 holes to keep yourself in it, and then to hit -- you've got half of Kent on your left and you hit it right. It was a tough one to take, McIlroy said to reporters.
Ever since the 22 year old won the U.S. Open back in June, he has transformed into a larger-than-live superstar. Golf fans are looking to fill the void that superstar void that Tiger Woods has left temporarily (or maybe permanently) while trying to get his personal and professional life get back on track. They have turned to McIlroy to fill that void.
Like Woods, McIlroy has been golfing since he was a lad. Like Tiger, McIlroy also appeared on a TV show when he was a kid to show off his golfing skills. McIlroy also shares the same marketable good looks and charisma that Woods possesses. Sports Illustrated celebrated McIlroy's U.S. Open win with a definitive cover saying Golf's New Era.
However judging by his performance at the British Open, it seems as if the era will be on hold for now.
© Copyright IBTimes 2023. All rights reserved.