Goodluck Jonathan Left Nigeria With Trillions Of Debt, Transition Committee Chairman Ahmed Joda Says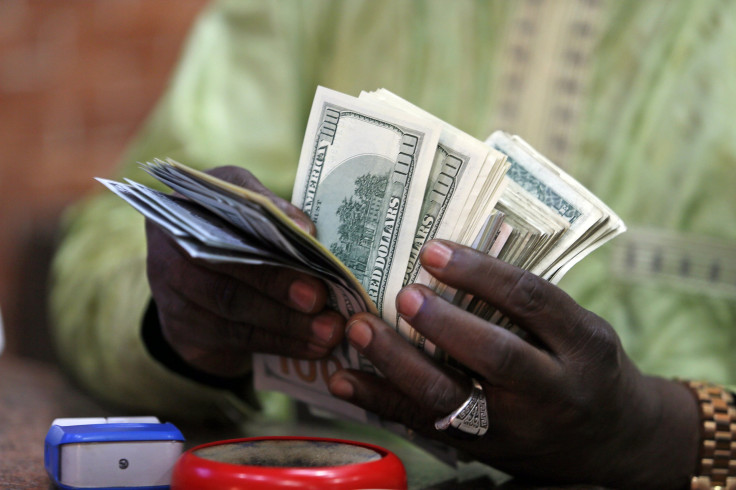 Former Nigerian President Goodluck Jonathan left behind a massive debt after he stepped down in May. Ahmed Joda, the chairman of the transition committee set up to assist in a smooth transfer of power, revealed to a local newspaper that President Muhammadu Buhari inherited a deficit of at least 7 trillion naira, or about $35.2 billion.
"We were told at the beginning of the exercise that the government was in deficit of at least 1.3 trillion naira and by the end people were talking about 7 trillion naira; everything is in a state of collapse," Joda, a retired permanent secretary, said during an interview with the Daily Trust newspaper in Abuja on Sunday. "The civil service is bloated and the military and police, if you are a Nigerian, you know what they have been facing for a long time; everywhere is in a mess and these things have to be fixed."
Buhari's administration has not yet echoed Joda's claims. Ahead of the May 29 presidential inauguration, Nigerian Vice President Yemi Osinbanjo said the country's local and foreign debts stood at about 12 trillion naira or $60 billion.
"Local and international debt stands at $60 billion. Our Debt servicing bill for 2015 is N953.6 billion, 21 per cent of our budget," Osinbajo told Premium Times newspaper in Abuja last month. "On account of severely dwindled resources, over two-thirds of the states in Nigeria owe salaries. Federal institutions are not in much better shape. Today, the nation borrows to fund recurrent expenditure."
Jonathan's political party, the Peoples Democratic Party (PDP), accused Osinbanjo of misrepresenting the facts and deliberately trying to discredit his administration. The former finance minister, Ngozi Okonjo-Iweala, said Osinbanjo's figure included state and federal debts, which largely predated Jonathan's presidency.
"We find it unacceptable and unstatesmanly for the vice-president-elect to attempt to mislead Nigerians into believing that the total federal debt component was accumulated under the President Goodluck Jonathan-led administration when it is on record that a greater chunk of the amount was inherited," PDP spokesperson Olisa Metuh said in a May 25 statement obtained by Premium Times.
Lawmakers in Nigeria, Africa's richest and most populous nation, have called for a bailout to cover months of unpaid government salaries in several states. Some states have been unable to pay employee salaries for as long as 10 months. The tumbling price of oil has meant diminishing revenues for the federal government since 2014. More than two-thirds of the $70 billion that Nigeria generates in state revenue per year comes from oil and gas exports.
However, Nigerian senators are still on track to receive 506,000 naira, or $2,500 each year, just to spend on clothes. The West African nation has some of the highest paid politicians in the world, earning up to 397.9 million naira a year, or $2 million.
© Copyright IBTimes 2023. All rights reserved.