Government Shutdown 2013: Senate Passes Budget Bill To End 16-Day Government Shutdown, House To Vote Later Tonight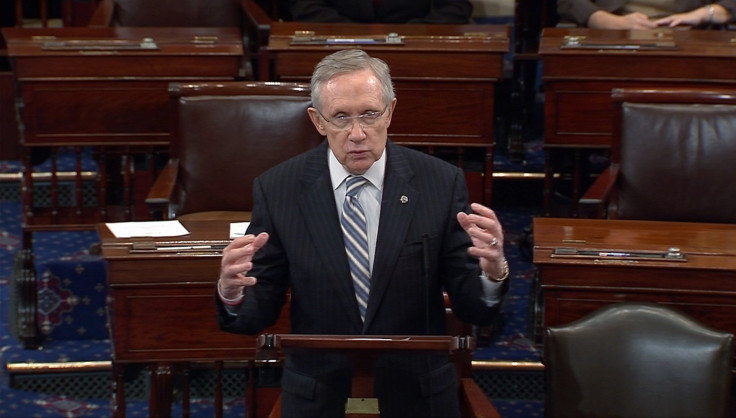 Update 10:15 p.m. EDT: The House of Representatives late Wednesday night passed a Senate-brokered bill to completely reopen the federal government and raise the federal government's debt ceiling.
Original story:
The Democratic-led Senate has passed a budget bill to end the partial 16-day federal government shutdown and raise the debt ceiling.
The Senate first held a procedural vote, which ended with 83 "yay" votes and 16 "nay" votes. Once that hurdle was cleared, the bill passed through the Senate with a final vote of 81-18. The agreement is expected to go to the Republican-led House for a vote later tonight.
Senate Majority Leader Harry Reid (D-Nev.) and Senate Minority Leader Mitch McConnell (R-Ken.) announced they had reached a deal on Wednesday morning, calling it a "historic bipartisan agreement."
According to the language of the Senate bill, the government would be funded through Jan. 15 and the debt ceiling would be raised until Feb. 7 in order to avoid a debt default, which would have resulted in economic catastrophe.
High-profile Republicans, including Sen. Ted Cruz (R-Texas) -- the man seen by many as the architect of the government shutdown -- said they wouldn't attempt to block the deal.
Cruz stated Wednesday morning that while he would vote "no" against the bill, he would simply be delaying the inevitable. "There's nothing to be gained from delaying this vote one day or two days," Cruz said, according to the Wall Street Journal. "The outcome will be the same."
Speaking on the Senate floor on Wednesday evening, Cruz remained defiant. "This deal embodies everything about the Washington establishment that angers the American people," he said, as reported by BreakingNews.com.
"Blocking the bipartisan agreement reached today by the members of the Senate will not be a tactic for us," Speaker of the House John Boehner (R-Ohio) added in a statement. "Our drive to stop the train wreck that is the president's health care law will continue."
According to CNN, national polls show that while both sides of the aisle have been hit with shrapnel in the battle over the budget bill and Obamacare, the Republican Party appears to be bearing the brunt of the blame from the public for the government shutdown.
"We fought the good fight, we just didn't win," Boehner told a Cincinnati, Ohio, Radio station on Wednesday.
The federal government's shut down began Oct. 1, when the Senate and House of Representatives began facing off over the federal budget, and particularly over funding for the Patient Protection and Affordable Care Act, also known as Obamacare. The United States' borrowing authority expires on Thursday.
© Copyright IBTimes 2023. All rights reserved.