Grammys 2012: Live Blog of Red Carpet Winners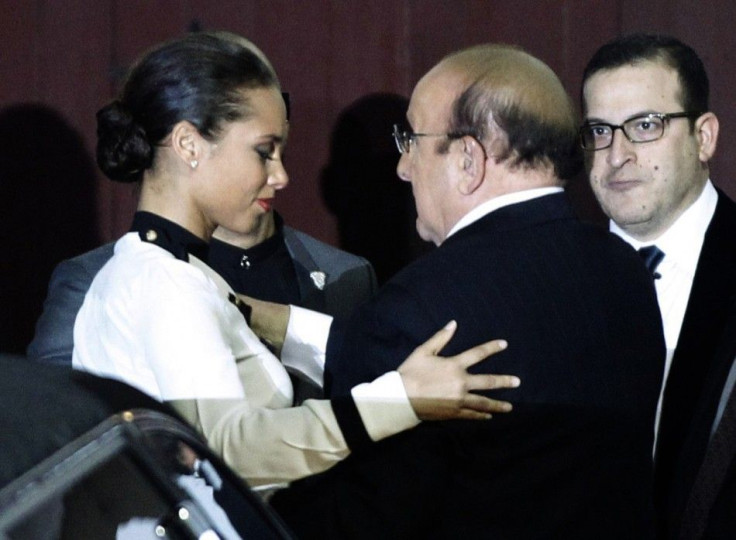 LOS ANGELES -- The music industry, gathered here for the 54th Grammy Awards Sunday evening, was in shock after the death of Whitney Houston, the six-time Grammy winner, Saturday afternoon.
When the AP confirmed the 48-year-old soul singer's death through a publicist, a pallor spread across the generally congratulatory mood of Music's Biggest Night.
At Crown Bar, a party for the Q-Tip contentious A Tribe Called Quest doc, Beats, Rhymes, and Life, DJAdam12 (President Obama's personal DJ) spun mostly '90s hip-hop with just one blast of I'm Every Woman. Celebs Chloe Sevigny and former-roommate/friend Michael Rappaport--that film's director--stayed mum on the subject of Houston's death.
At the Roosevelt Hotel later in the evening, DJ Myles Hendrick (DJ of Prince Kate's LA royal wedding reception because he's kind of British) spun Whitney cut after Whitney under the Teddy's VIP lounge and the crowd ate it up. When Elijah Wood took the 1-2s later in the evening, he spun mostly old rock and soul '45s in what was a bleak reminder of Soul Clap host Johnathan Toubin's continued health sturggles.
Paul McCartney was rumored to be there late in the night; LCD Soundsysyem stalwart Nancy Whang DJ'd the main room with Digitalism and OK Go, as celebs Shaun White, Brie Larson, Clark Duke and others enjoyed the old-school photobooth.
At the Modular party at the hotel's Marilyn Monroe Penthouse suite, Grammy nominated-Austrailian disco studs Cut Copy hosted an open-air rooftop party. House/garage--and voice of Daft Punk's Face to Face--producer Todd Edwards was there, as was Aussie electroists Bag Raiders--but no one had much to say on the subject of Houston.
This reporter couldn't break the barrier at The Mondrian for the Young Money party, and the line at Greystone Manor for Drake's Grammy party was too choked with fans to even brave. So for us, Saturday's celebrations stayed fairly, well, celebratory.
By the time we get started at the Staples Center Sunday, Cee Lo's already won Best RnB performance, Amy Winehouse's parents accept her award for Best Pop Duo with Tony Bennett, and Allison Krauss wins Best Bluegrass Album, two years after her Best Album win with Robert Plant. The Book of Mormon wins best musical.
LIVE UPDATES
9:17 PM PT
Jennifer Hudson's Whitney tribute solid. Superfans of the NBC sitcom baffled.
Bon Iver wins Best Alternative album despite sounding nothing like Silverchair.
The masses still reeling from Nicki Minaj's borderline cyber punk madness.
Adele garners 250 new followers every 30 seconds, breaks the grammys and twitter.
I quit blogging forever.
8:45 p.m. PT
Album of the year is next. Paul McCartney is set to perform. Guys: he's not getting any younger. I have seen Paul Perform these songs live. I honestly think he might be an ageless rock 'n' roll-bot. Some makes a joke about a deep-cut from Ram but he's clearly going to play a song from that album they advertised on iTunes where he's wearing Chuck Taylors.
8:30 p.m. PT
As Bon Iver wins Best New Artist, despite his 2007 album Forever Forever Ago being the true formative record of Justin Vernon's career,
8:17 p.m. PT
LL Cool J is taking heat for basically yelling the entire time.
8:15 p.m. PT
Record of the year goes to Adele for Rolling in the Deep. SHE GOT IT ALL #token
8:10 p.m. PT
Nicki Minaj's performance is basically a ploy
6:15p.m. PT
TECHNICAL DIFFICULTIES! (Sadly!!!)
6 p.m. PT
With all the tributes going on--Questlove' and LL Cool J to Don Cornelius, Bonnie Rait and Alicia Keyes to Etta James--one of the biggest conversations arising in the blog world is the missing tribute to formative female punk rocker Poly Styrene, who passed last year.
5:34 p.m. PT
Adele wins the first award of the night. Her boyfriend doesn't even tuck in his shirt.
Twitter erupts with hate toward Chris Brown.
5:30 p.m. PT
Bruno Mars redeems his lackluster music by telling the crowd, get off your rich asses!
5:27 p.m. PT
Bonnie Raitt and Alicia Keyes tribute Etta James with A Sunday Kind of Love.
5:25 p.m. PT
Bruno Mars takes the stage performing a dismal take on Runaway Baby.
5:23 p.m. PT
Everyone's making fun of LL Cool J for licking his lips a lot and sounding like a cruise director.
Taylor Swift mentioned something about collaborating with Nicki Minaj and everyone wants to destroy that.
5:07 p.m. PT
Kelly Price, the last person to sing with Whitney Houston, arrives.
5:02 p.m. PT
Deadmau5 wears a T-Shirt bearing the phone number Skrillex.
Everyone's asking how high Wiz Khalifa is.
J Cole brought his mom and they look really cute.
4:58 p.m. PT
Nicki Minaj shows up in an Imperial Sith Cloak with someone dressed as the Pope. There are no words.
4:53 p.m. PT
Civil Wars win best folk album. A legion of Pacific Northwest Fleet Foxes fasn takes a collective weepy sigh. Everyone else is simply baffled a band called Civil Wars wins an award, a year after a band called Lady Antebellum.
4:50 p.m. PT
Bruce Springsteen wins Best Box Set.
Adele's already won Best Pop Vocal Album, before she even arrives.
4:48 p.m.
Bon Iver actually ends up winning a Grammy over Radiohead and My Morning Jacket, among others. Everyone, especially the Grammy decrying Justin Vernon, is thoroughly confused.
4:46 p.m. PT
Booker T Jones takes home an award with The Roots. Questlove's hair gets more excited.
Everyone is gawking that Rebecca Black is even present at the event.
Ryan Seacrest's presence draws critical disdain on twitter.
4.43 p.m. PT
Paul Elpworth wins producer of the year. Everyone in New York asks, who?
4.39 p.m. PT
Paul Elpworth wins producer of the year. Everyone in New York asks, who?
4:36 p.m. PT
As predicted, a jubilant Skrillex walked off with a sweep of all the dance-related music he was up for. Fellow nom CC Sheffield said outside the awards though she lost, she was happy for Sunny.
Foo Fighters win Rock Album of the Year. 14 year old me gets realy excited.
After losing his Rap noms to Kanye, producer Diplo throws a tanturm on Twitter, saying he's going to chik-filet.
2:45 p.m. PT Skrillex wins three Grammys for mainstream dubstep appeal, applied under Best DanceKanye wins Best Rap Album (My Beautiful Dark Twisted Fantasy) and Best Rap Song (All of the Lights) during non-televised segment of the awards. He was not present to accept.
2:45 p.m. PT
Skrillex wins three Grammys for mainstream dubstep appeal, applied under Best DanceKanye wins Best Rap Album (My Beautiful Dark Twisted Fantasy) and Best Rap Song (All of the Lights) during non-televised segment of the awards. He was not present to accep
FOLLOW MORE IBT NEWS ON THE BELOW CHANNELS