Greece Migrant Crisis: Kos Island Police Beat Refugees, Mayor Warns Of Bloodshed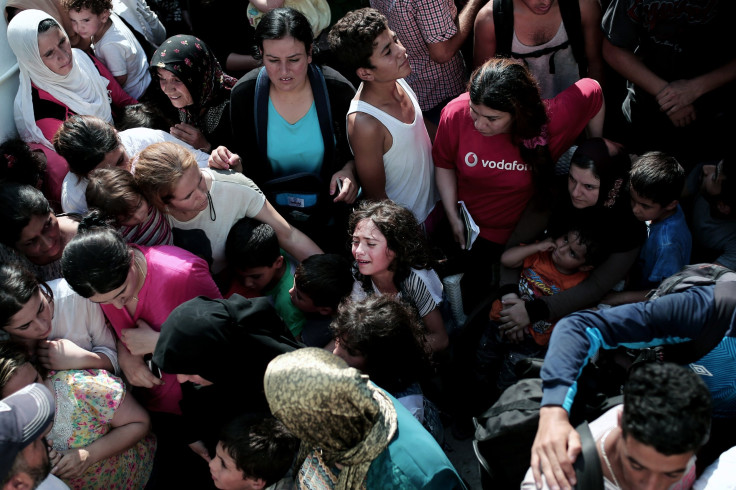 Police on the Greek island of Kos Tuesday hit migrants with batons and sprayed fire extinguishers as they tried to control the swelling crowd. The clashes broke out at a local football stadium where hundreds of refugees waited for immigration papers.
The migrants were camping for weeks alongside roads and beaches across the eastern Aegean island, a popular tourist destination. But a bid to relocate them to a local stadium led to chaos.
Kos Mayor Yorgos Kyritsis said that edgy local services, including police and coast guard, were not capable of handling the huge influx. "This situation on the island is out of control," he told Greek TV, according to Reuters. "There is a real danger of uncontrollable situations. Blood will be shed."
The incident comes a day after an officer at a local police station in Kos was reportedly suspended for slapping a Pakistani immigrant while wielding a knife.
Kos, one of the several Greek islands, witnessed a massive influx of migrants this year mostly from troubled countries like Syria, Libya, Afghanistan, Somalia and Eritrea. Most migrants to the country arrive on five Greek islands of Lesbos, Chios, Kos, Samos and Leros.
"We just want to leave this island, and they don't understand that," Laith Saleh, a Syrian migrant, told the Associated Press. "We can't get on the boat to Athens if we don't have the papers."
A Greek police official told Reuters that authorities were planning to position riot police squads to Kos and neighboring islands of Rhodes and Syros amid the mounting number of asylum seekers in the European country.
Last week, the United Nations High Commissioner for Refugees in Europe said about 124,000 migrants reached Greek islands by boat until July this year, a 750 percent increase from the same period last year. In July alone, about 50,000 migrants arrived in Greece, of whom 70 percent were from Syria. Thousands of migrants arrive on rubber dinghies through neighboring Turkey, which is the fastest route into the European Union.
The U.N. refugee agency also reportedly criticized Athens' response to the migrant crisis, calling it "totally shameful." Many migrants do not have access to basic hygiene facilities and are often subjected to abuse at the hands of police, international group Doctors Without Borders, also known as Médecins Sans Frontières, said in statement Tuesday.
© Copyright IBTimes 2023. All rights reserved.
FOLLOW MORE IBT NEWS ON THE BELOW CHANNELS