Greek Debt Crisis: Germans Wary of Bailout, Ahead of Parliament Vote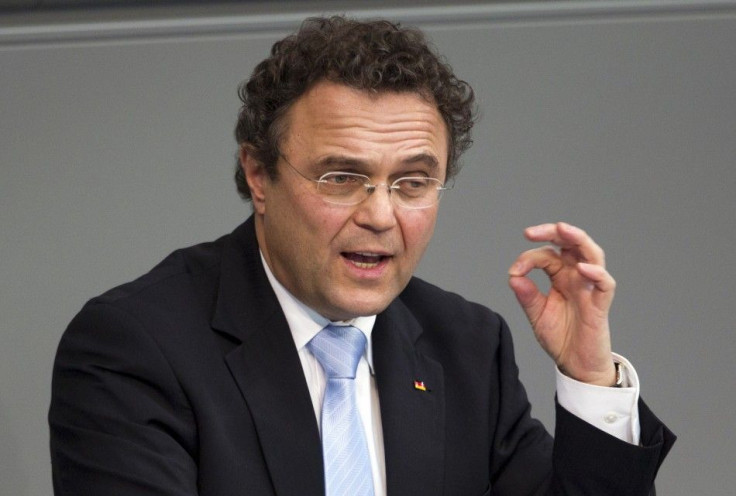 Germany's Chancellor Angela Merkel has publicly rebuked comments made by one of her cabinet ministers who called for Greece to exit the euro zone, thereby sparing Germany the huge financial headaches related to the next bailout of that debt-stricken country.
Interior Minister Hans-Peter Friedrich's comments against providing anymore fiscal support to Athens would appear to have exposed deep divisions within Merkel's coalition government, ahead of the Berlin parliament's vote on the latest rescue package.
Friedrich told Der Spiegel magazine: Greece's chances to regenerate itself and become competitive are surely greater outside the monetary union than if it remains in the euro area.
He added: I'm not talking about throwing Greece out, but rather about creating incentives for an exit that they can't pass up.
It is believed to be the first instance of a senior German lawmaker calling for Greece's expulsion from the currency bloc.
Steffen Seibert, a spokesman for the Chancellor, told reporters that Merkel doesn't share this view and asserted that Greece must stabilize and remain a partner in the euro bloc.
Volker Kauder, a prominent conservative parliamentarian, also criticized Friedrich, telling German media that the interior minister sent out a very wrong signal. He also told ARD television we shouldn't make any contribution to pushing any member out of the euro zone. We want to keep the Greeks in the euro zone.
Another coalition partner, the Free Democratic Party (FDP), also criticized Friedrich.
Imprudent statements can do a lot of damage, said Foreign Minister Guido Westerwelle, the FDP's former chief.
[Monday] is a day of decision for Europe and of responsibility for our currency.
Despite Friedrich's protestations, Seibert added, the Bundestag is expected to pass the 130 billion euro ($174 billion) bailout for Athens in Monday's crucial vote. Germany will be on the hook for a significant portion of that cash.
Following the rebuke by his boss, Friedrich appeared to retract his own comments.
We assume as the federal government that Greece can be reformed and made more competitive within the euro zone, he told reporters.
I have no doubts about the chancellor's bailout course.
He added that he would support the bailout, characterizing it as the best alternative, otherwise I wouldn't vote for it.
It is important to note that Friedrich is a member of the Christian Social Union (CSU), a small Bavarian-based party that is linked to Merkel's Christian Democrats, but which sometimes likes to distinguish itself from the dominant party line.
Merkel, who rules a center-right coalition government, is likely to receive support on the bailout from the opposition Social Democrats (SPD) and even the Greens.
I expect we will get a broad majority with the SPD and Greens and a big majority of our own too, Peter Altmaier, the parliamentary manager of the conservatives, told ARD television on Monday.
However, the German public is wary of handing over more cash to the Greeks.
A poll by Emmid revealed that 62 percent of the German people would like to see the Bundestag reject the bailout, with only one-third in favor of the rescue.
In addition, two-thirds of respondents said they think Greece is doomed to bankruptcy.
The tabloid Bild ran a front-page headline that called for the parliament to reject passage of the bailout. "Stop! Don't keep on going the wrong way, its headline read.
The Süddeutsche Zeitung newspaper reported that many other prominent German lawmakers may share Friedrich's misgivings about the bailout, including Finance Minister Wolfgang Schäuble and Economics Minister Philipp Rösler.
BBC reported that in a letter to MPs, Schaeuble wrote there were no guarantees that the chosen path would lead to success.
© Copyright IBTimes 2023. All rights reserved.