Guns Kill More People Than Car Accidents In 14 US States
Firearm-related deaths in the United States are expected to surpass the number of traffic fatalities by 2015, according to at least one recent study. In some states, that is already the reality.
In fact, it's the case in at least 14 states across the country, Mother Jones reported on Monday. The publication, using information compiled by the Centers for Disease Control and Prevention, determined that in 2010 – the most recent year for which data is available – nine states experienced more gun than vehicle accident deaths. In an even more grisly revelation, gun suicides alone outnumbered traffic deaths in five states – Alaska, Washington, Oregon, Nevada and Utah.
Those figures are striking, considering the statistics. Someone in the U.S. dies about every 15 minutes in a motor vehicle crash, the CDC estimates. Those accidents are currently the leading cause of death for individuals between the ages of 5 and 34.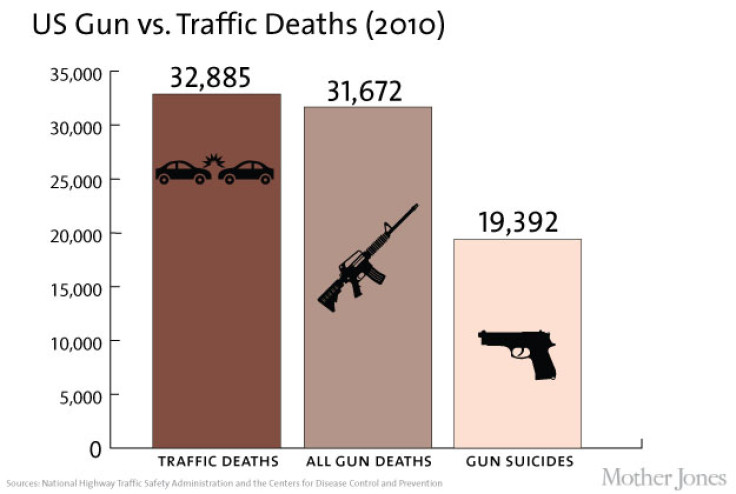 Nationally, close to two-thirds of all gun deaths are suicides, a subject that has received little attention in the current debate about gun violence prevention. For instance, Alaska experienced twice as many gun suicides (107) than traffic deaths (56) in 2010. Utah, sometimes referred to as the "most depressed" state in the country, had 275 firearm suicides, surpassing its 236 motor vehicle fatalities.
While it can be rightly noted that those are sparsely populated states that would naturally see fewer traffic deaths (because fewer cars are on the road), firearm-related fatalities are also outnumbering automobile deaths in much more populated states like Illinois, Virginia, Ohio and Michigan.
Many of those states have relaxed gun ownership laws.
But some of the states pinpointed by Mother Jones are still pushing for looser gun restrictions. For instance, while the vast majority of Utah gun deaths in recent years have been from people taking their own lives (jumping from a rate of 7.8 per 1,000 in 1999 to 10.6 in 2010) some state lawmakers believe guns should be even easier to purchase and carry.
Last week, the Utah House of Representatives passed a bill that would allow residents to carry concealed weapons without a permit – potentially joining the ranks of other "constitutional carry" states such as Vermont, Alaska, Wyoming and Arizona. That comes soon after the state passed a law opening up gun ownership to individuals who have been indicted (though not convicted) for a violent felony.
Utah, along with Alaska and Arizona, has the weakest gun laws in the U.S., according to the Brady Campaign to Prevent Gun Violence. The organization gave Utah 0 points out of 100 in its 2011 scorecard of national firearm laws.
© Copyright IBTimes 2023. All rights reserved.
FOLLOW MORE IBT NEWS ON THE BELOW CHANNELS