Gun Murders Shot Up 25% After Missouri Repealed Universal Background Check Law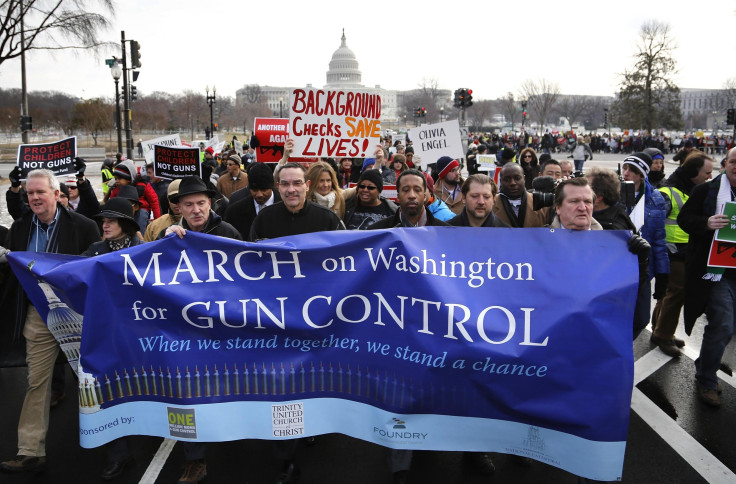 Universal background checks before gun purchases can have an enormous impact on reducing firearm-related deaths, according to testimony presented before the U.S. Senate Judiciary Committee this week.
While gun rights lobbyists, led by the National Rifle Association, claim criminal background checks before all purchases are impractical and unnecessary, research from the Johns Hopkins Center for Gun Policy and Research found that strict guidelines may actually reduce gun-related homicides.
Missouri, the site of President Barack Obama's recent gun control speech, had a firm "permit-to-purchase" law in place until 2007, when it was repealed. The law -- which both the Missouri Sport Shooting Association and NRA helped overturn -- required Missouri residents to obtain a sheriff's permit before purchasing a concealable weapon.
Although, under federal law, gun dealers are already required to run background checks on individuals purchasing handguns, that regulation only applies to licensed dealers. The Missouri law went one step further by mandating background checks on the sale and transfer of firearms between individuals and unlicensed dealers.
According to Daniel Webster, director of the Johns Hopkins Center for Gun Policy and Research, that stipulation on individual sales may have saved lives. Testifying before the Senate on Tuesday, Webster said he conducted an analysis that found the expiration of the "permit-to-purchase" law was followed by a 25 percent spike in homicides over three years.
"Preliminary evidence suggests that the increase in the diversion of guns to criminals linked to the law's repeal may have translated into increases in homicides committed with firearms," Webster said in his written testimony to the Senate. "From 1999 through 2007, Missouri's age-adjusted homicide rate was relatively stable, fluctuating around a mean of 4.66 per 100,000 population per year. In 2008, the first full year after the permit-to-purchase licensing law was repealed, the age-adjusted firearm homicide rate in Missouri increased sharply to 6.23 per 100,000 population, a 34 percent increase. For the post-repeal period of 2008-2010, the mean annual age-adjusted firearm homicide rate was 5.82, 25 percent above the pre-repeal mean."
Webster also said those changes were inconsistent with the national firearm homicide rate, which reportedly dropped 10 percent during that 2008 to 2010 period.
The analysis, which focused on the kind of guns used by criminals in Missouri between 2007 to 2011, noticed there was a vast increase in the percentage of "young" -- meaning, recently purchased -- guns used in crimes, a finding that was at odds with the national trend. Webster said the results suggest it was easier for criminals to obtain new firearms after the state background check rule was repealed in 2007.
Only five states (California, Connecticut, Maryland, Pennsylvania and Rhode Island) and the District of Columbia currently require universal background checks on all or some firearm purchases, including those by unlicensed sellers.
© Copyright IBTimes 2023. All rights reserved.