Hakeem Nicks Trade Rumors: Giants WR Downplays Rumors Of Trade To Patriots, 49ers, Or Falcons; 'I'm A Giant'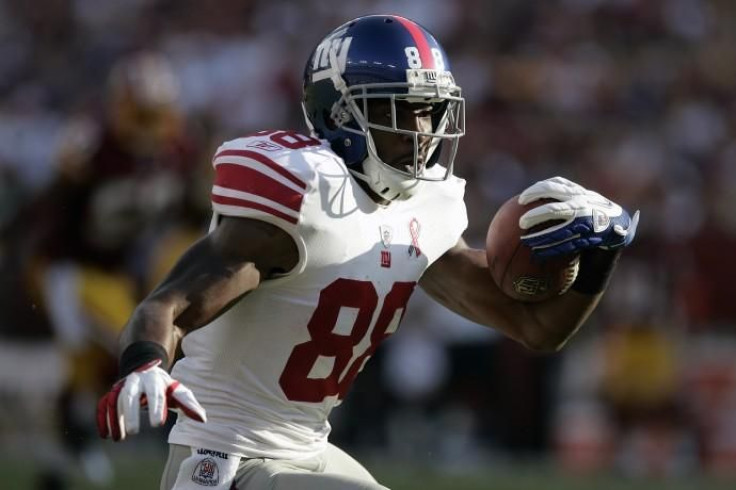 The New York Giants' 0-6 start has some NFL pundits speculating about a possible roster shake-up, but star wide receiver Hakeen Nicks isn't worrying about a trade just yet.
In an interview with reporters after the Giants' team practice on Monday, Nicks refused to entertain the rumors that he'd be traded to another team this season. "I'm a Giant, and that's the only thing I can focus on right now," Nicks said, according to ESPN. "I'm a Giant, and I love playing for the Giants. I'm a Giant right now, and I'm going to stand strong on that."
The trade rumors surrounding Nicks are as much a product of his contract situation as the Giants' poor start to the 2013 season. The 25-year-old is in the final season of a five-year contract he signed as a rookie. Given the Giants' recent long-term investment in Victor Cruz and the emergence of second-year wide receiver Reuben Randle, Nicks' role in the offense has diminished. In fact, Nicks has been the target of 46 passes this season, just three more than Randle's 43.
The evolution of the Giants' offense, coupled with the team's slow start, has led some to suggest that Nicks could be dealt to a contender ahead of the NFL's Oct. 26 deadline, ESPN reports. The New England Patriots, San Francisco 49ers, Atlanta Falcons and Baltimore Ravens have each expressed interest in the 25-year-old, CBS Sports reports.
However, it seems that the Giants share Nicks' confidence that he'll remain in New York -- at least for the time being. An NFL insider reportedly told ESPN that the Giants aren't considering any trade offers for Nicks at this time. Still, the source noted that the team's strategy regarding Nicks could change as the trade deadline gets closer.
On Monday, Nicks acknowledged the trade rumors, but expressed confidence that Giants officials would approach him before considering any sort of transaction. "I'm sure they've got enough respect for me to come to me and talk to me about a situation like that," Nicks said. "As of now, I'm a Giant. At the end of the day, business is business. But I haven't been getting any whiff of anything like that. I'm a Giant right now, and I'm going to enjoy it, and we've got to start winning games."
© Copyright IBTimes 2023. All rights reserved.