A 'Halal Sex Shop?' First Online Sex Shop For Muslims In Turkey Sells Islam-Approved Products, Sexual Advice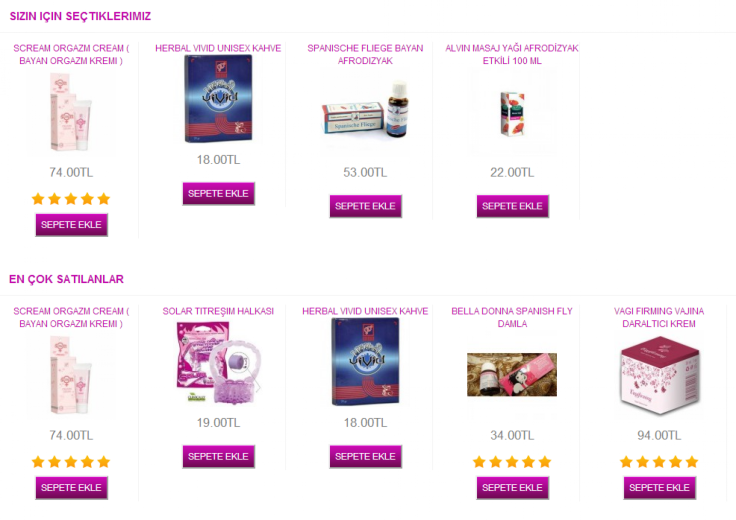 A businessman in Turkey has opened the first sex shop for Muslims online selling Islam-approved items such as lubricants and herbal aphrodisiac products and offering advice for how to have "halal sex."
The site, www.bayan.helalsexshop.com, was the brainchild of 38-year-old Haluk Murat Demirel of Turkey, who said he was inspired by friends who wanted sex advice and items.
"Online sex shops usually have pornographic pictures, which makes Muslims uncomfortable. We don't sell vibrators for example, because they are not approved by Islam," Demirel told Reuters.
And due to the lack of sex shops in Turkey -- aside from small parts of Istanbul with a few run-of-the-mill neon sign-adorned sex shops -- and online, Demirel's site has proven successful. Demirel said his website "proved unexpectedly popular" since it launched last Tuesday and has had more than 33,000 visitors on Sunday.
So what exactly is sold on the Halal Sex Shop?
Products include: "Scream Cream Orgasm" for females for $37.35, "Breast Enlargement Cream Drops of Joy" for $39.88, "The Compressor Vagi Vagina Firming Cream" for $46.45 and the "Solar Vibration Ring" for $9.59.
Demirel said his site also offers sex advice about which sexual practices are banned by Islam and which are not. One article details the "analysis of the relationship to Islam" for anal sex.
"Women back organ / anal sexual intercourse, regardless of how strictly forbidden," the site reads, translated from Turkish to English using Google translate. "Anal intercourse between spouses, even if, as sodomy is named, is prohibited. One of the main goals of the Qur'an of sexual relationship * is said to be continued and the woman's sexual organ of generation (vagina), provided that the relationship is released in form, have been reported."
However, another article says oral sex in Islam is "Halal."
"Oral sex (sexual organ to be taken into the mouth, kissed etc.) Although there is no express provision in this regard, that this kind of sexual relations with the local bodies should be avoided Impurity. Exactly like every Muslim is forbidden because it avoids issues you need to stay away from the issues that are suspected unlawful. Indeed, the Prophet said: "certain things that are Halal, is evident from the things that are forbidden. Between these two people, many of halal, haram suspect did not know whether there are issues."
The site boasts that it will help break the stigmas of Islam, which many perceive as "against sex," particularly since its conservative leader, Prime Minister Recep Tayyip Erdogan, denounced Istanbul's small number of sex shops last year, suggesting they be called "love shops."
"The religion of Islam has praised sex under certain circumstances," the site reads. "The use of every product on sale is in compliance with Islam."
© Copyright IBTimes 2022. All rights reserved.
FOLLOW MORE IBT NEWS ON THE BELOW CHANNELS