Half Japanese Voters Oppose Abe's Security Shift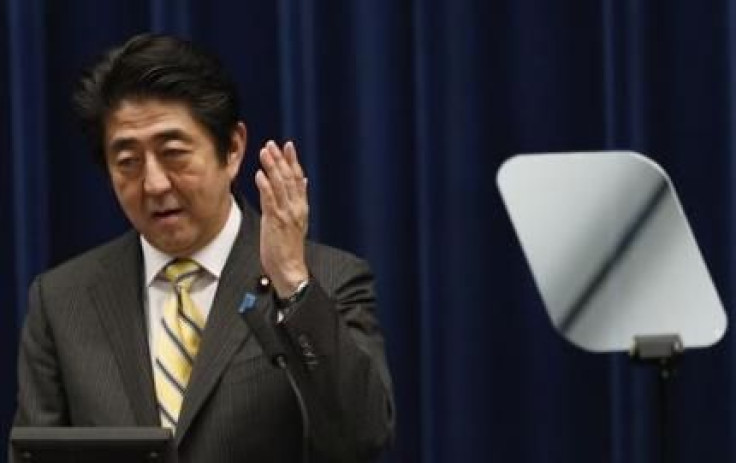 TOKYO (Reuters) - Half of Japanese voters oppose dropping a ban that has kept the military from fighting abroad since World War Two, a survey showed on Monday, as Prime Minister Shinzo Abe readied a landmark shift in security policy that would ease the constraints of the pacifist constitution on the armed forces.
A man set himself on fire at a busy Tokyo intersection on Sunday in an apparent protest against the policy change, police and witnesses said, a rare form of protest in Japan.
The change will significantly widen Japan's military options by ending the ban on exercising "collective self-defense" or aiding a friendly country under attack. It will also relax limits on activities in U.N.-led peacekeeping operations and "grey zone" incidents short of full-scale war, according to a draft government proposal made available to reporters last week.
The change is likely to anger China, whose ties with Japan have chilled markedly due to a territorial row, mutual mistrust and the legacy of Japan's past military aggression. But it will be welcomed by Tokyo's close ally Washington and someSoutheast Asia nations, also wary of an increasingly assertive Beijing.
Abe's cabinet is expected to adopt as early as Tuesday a resolution revising a long-standing interpretation of the U.S.-drafted constitution to lift the ban, after his ruling party finalizes an agreement with its junior partner.
Fifty percent of Japanese voters oppose dropping the ban compared to 34 percent who support the change, a survey by the Nikkei business daily showed. The rest were undecided.
Fifty-four percent of respondents to the June 27-29 survey were against making the change by reinterpreting the pacifist charter rather than going through politically more difficult formal amendment procedures, the Nikkei said.
Since its defeat in 1945, Japan's military has not engaged in combat. While successive governments have stretched the limits of the U.S.-drafted pacifist charter not only to allow the existence of a standing military but also to permit non-combat missions abroad, its armed forces are still far more constrained legally than those in other countries.
Conservatives say the charter's war-renouncing Article 9 has excessively restrictedJapan's ability to defend itself and that a changing regional power balance including a rising China means Japan's security policies must be more flexible.
Critics say the change will gut Article 9 and make a mockery of formal amendment procedures.
© Copyright IBTimes 2023. All rights reserved.