Halladay brilliant as Phillies thump Pirates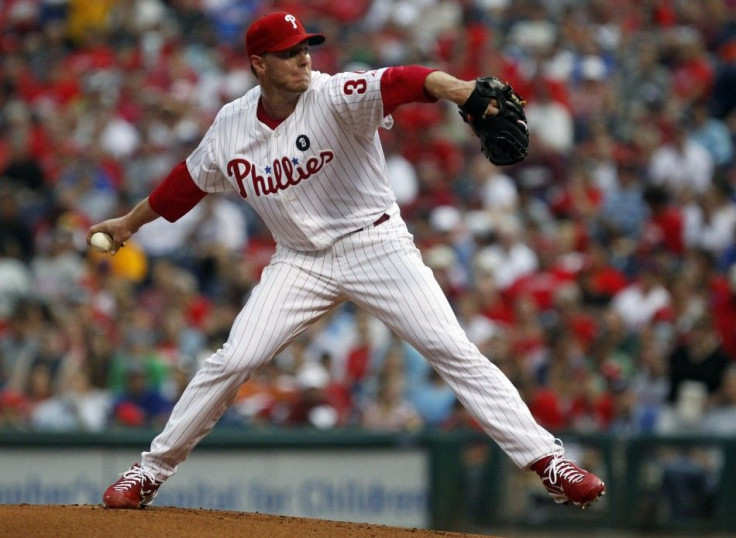 The Philadelphia Phillies roared to an early lead and thumped the Pittsburgh Pirates 10-3 allowing Roy Halladay to win his National League-leading 13th game.
Halladay was in near perfect form, allowing just one hit while striking out five in seven innings. He retired the final 12 batters he faced.
Capping off the win was news that the Phillies had acquired Astros All-Star outfielder Hunter Pence.
"Out there, you're kind of in your own world ... But it's nice, especially coming off a nice win and hear good news like that, it's always good," Halladay said of the Pence trade.
Philadelphia scored three runs in the first inning and added five more in the second inning led by a three-run home run by Chase Utley. Utley went 3-for-5 in the game, driving in four runs and needed a double to complete the cycle.
Jimmy Rollins hit a two-run home run in the seventh inning to stretch the Phillies lead to 10-0 before the Pirates broke the shutout with three runs in the eighth inning off Phillies relief pitcher Drew Carpenter.
Charlie Morton took the loss for Pittsburgh to drop to 8-6 on the season, allowing eight runs on nine hits while striking out and walking four batters in four innings.
"The first two innings, he (Morton) couldn't get the ball down with consistency," Pirates manager Clint Hurdle said.
"Different guys are wired differently. Some pitchers go out with the mentality that they're going to go out and make it happen.
"For Charlie, when he lets it happen, he's better served. I think tonight he tried to make it happen the first two innings."
© Copyright Thomson Reuters 2023. All rights reserved.