Hank Aaron Dies As The 'True' Home Run King
Baseball legend Hank Aaron died Friday morning at 86 years old, leaving behind a legacy like few in sports history. Officially ranking second on MLB's all-time list, Aaron remains the true Home Run King in the eyes of many.
Aaron broke Babe Ruth's record with his 715th home run on April 8, 1974, in one of MLB's most iconic moments. The Hall of Famer went on to finish his career with 755 home runs, setting a mark that would stand for over 30 years.
Barry Bonds broke Aaron's record in 2007, retiring at the end of that season with 762 career homers. The mark still stands, shrouded in controversy because of Bonds' alleged steroid use.
Bonds' record carries an unofficial asterisk for a large portion of baseball's gatekeepers. Fourteen years after surpassing Aaron, Bonds still hasn't been elected to the Hall of Fame.
No player in MLB history has matched Aaron's combination of productivity and longevity. He holds the record with 25 All-Star appearances. Aaron ranks first all-time with 2,297 RBI and 6,856 career total bases.
The first 21 seasons of Aaron's MLB career were spent with the Milwaukee and Atlanta Braves. Aaron played for the Milwaukee Brewers in 1975 and 1976 before calling it quits.
Prior to making his MLB debut, Aaron had a brief stint in the Negro Leagues. He was a member of the Indianapolis Clowns in 1953.
Entering the big leagues less than a decade after Jackie Robinson broke the color barrier, Aaron experienced plenty of racism as one of the country's top athletes. He received death threats as he approached Ruth's home record, making history while facing so much adversity.
"What a marvelous moment for baseball. What a marvelous moment for Atlanta and the state of Georgia. What a marvelous moment for the country and the world," legendary Dodgers broadcaster Vin Scully said as Aaron rounded the bases for his record-breaking homer. "A black man is getting a standing ovation in the Deep South for breaking the record of an all-time baseball idol. And it is a great moment for all of us, and particularly for Henry Aaron."
Aaron was a three-time Gold Glove winner, a two-time batting champion and a one-time MVP.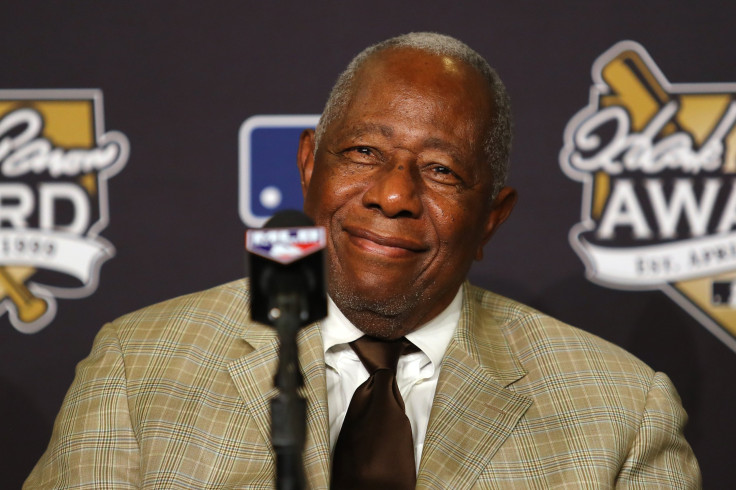 © Copyright IBTimes 2023. All rights reserved.