'Hardworking, Qualified' North Korean Workers To Help Russia Rebuild Donbas
KEY POINTS
North Korea recognized Donetsk and Luhansk republics last week
The Ambassador said Koreans are interested in Donbas-based industries
Matsegora said trade with North Korea is possible despite sanctions
Workers from North Korea might soon land in Donbas in Eastern Ukraine to help Russia rebuild the territory that suffered severe damage in the war, the Russian ambassador to Pyongyang said Monday.
According to Ambassador Alexander Matsegora, there are prospects for cooperation between North Korea and the self-proclaimed people's republics of Donetsk and Luhansk. "And, they are quite extensive. Firstly, Korean builders who are highly qualified, hardworking and ready to work in the most difficult conditions, will be a very serious part in building the destroyed infrastructure in Donbas," Matsegora told Izvestia, a Moscow-based newspaper.
North Korea recognized the Moscow-backed Donetsk People's Republic (DPR) and Luhansk People's Republic (LPR) last week, following which Kyiv called off all diplomatic ties with Pyongyang, and accused it of undermining Ukraine's sovereignty and territorial integrity. Pyongyang had retorted saying Kyiv has "no right" to take issue with its recognition of two breakaway republics.
Matsegora also detailed other areas where Russia and North Korea could cooperate. "Practically all enterprises of ferrous and non-ferrous metallurgy, transport engineering and electric power industry, built in the DPRK with Soviet technical assistance are still in operation. Korean partners are very interested in spare parts and units manufactured there," he added.
He added that the development of trade and economic exchanges with North Korea is "quite possible" though not easy under the sanctions.
The ambassador also added that North Korea's decision to recognize the independence of Donetsk and Lugansk was not "dictated by any selfish considerations in the hope of getting something in return from Moscow."
"It may sound implausible in our ultra-pragmatic times, but Pyongyang in the international arena always acts according to its conscience, in the way it thinks would be right. The North Koreans have not received anything from us, for example, for recognizing Crimea as Russian, they do not bill us after every vote in our favor at the UN or on any other international platform," he added.
Matsegora added that North Korea considers the struggle of the people of Donbas against the Bandera regime to be fair and the Kyiv regime as Washington's puppets.
Meanwhile, any such cooperation with North Korea would only confirm that Russia had become a rogue state, said Go Myong-hyun, a research fellow at the Asan Institute for Policy Studies in Seoul. "This would mark the first major step toward the decline of Russia from a major power to a rogue state. Once Russia violates the very sanctions it had authorized, the Security Council would be critically undermined," he told NK News.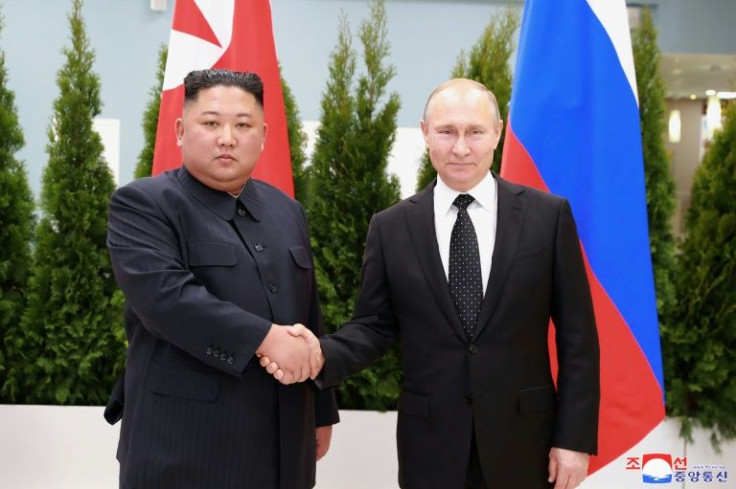 © Copyright IBTimes 2023. All rights reserved.