Harvard Students Blockade Campus President's Office As Fossil Fuel Divestment Movement Spreads to Universities, Institutions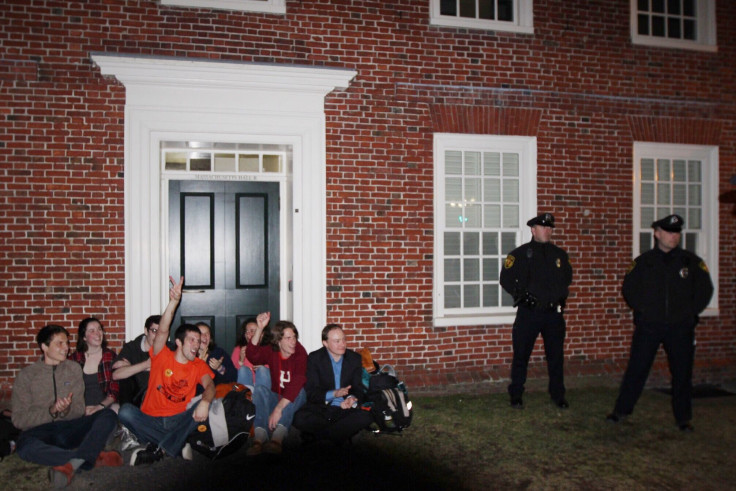 Harvard University students are blockading a key administrative office this week to pressure the school to dump its holdings of oil, coal and natural gas stocks. The sit-ins and protests in Cambridge, Massachusetts, are part of a global movement by climate change activists who say divesting from fossil fuels is a moral imperative for universities, pension funds and other institutions.
If successful, the push for divestment at Harvard would be a major victory for opponents of fossil fuel companies. The university's $36.4 billion endowment is the largest of any U.S. institution of higher learning.
Known as Harvard Heat Week, the initiative kicked off Sunday with a 500-person rally outside Massachusetts Hall, where President Drew Faust and other top administrators have offices. Activists with Divest Harvard plan to block the building's three entrances through Friday to prevent officials from entering. Students will be allowed to come and go.
Harvard did not respond to requests for comment on this week's protests. The university instead pointed to a 2013 letter from Faust to students and faculty that explained why she disagreed with the divestment strategy. "Divestment is likely to have negligible financial impact on the affected companies. And such a strategy would diminish the influence or voice we might have with this industry," Faust said. "Divestment pits concerned citizens and institutions against companies that have enormous capacity and responsibility to promote progress toward a more sustainable future."
Jeff Neal, a Harvard spokesman, said Faust's two-year-old message still pertains. "Harvard's position has not changed," he said in an email. Since the letter was written, however, "Harvard's faculty and students have continued their efforts to confront climate change through research, teaching and campus sustainability initiatives."
Divestment proponents at Yale and Cornell universities are facing similar resistance from administrators. Yale University police last week cited and fined 19 students after they staged a sit-in outside President Peter Salvoey's office in New Haven, Connecticut. Activists were calling on Yale to rid its $24 billion endowment of fossil fuel holdings.
Supporters at other universities have had more success. More than 25 schools, mostly in the United States, have committed to divesting from oil, coal and natural gas companies since 2011, according to 350.org, the environmental group that launched the U.S. divestment movement. The richest of the group is Stanford University, which last year said it would no longer use its $21.4 billion endowment to invest in coal companies.
Pension funds and philanthropic foundations have also joined the movement. Last fall, the Rockefeller Brothers Fund, a private charitable organization, said it would immediately dump its holdings in companies that produce coal and tar sands, two of the most carbon-intensive sources of energy. In February, Norway's $850 billion Government Pension Fund Global, the world's richest sovereign wealth fund, said it had ditched 114 companies on environmental and climate grounds.
"Us being here is saying to the administration that their inaction on divestment is simply unacceptable," says Jasmine Opie, a 21-year-old Harvard junior and member of Divest Harvard, which is backed by 350.org.
Opie spoke by phone near one of the entrances to Massachusetts Hall on Monday. She says she slept there Sunday night in a sleeping bag and that she and another 15 students dined on pizza dropped off by supporters and visiting alumni. The Memorial Church across the street supplied coffee and breakfast sandwiches in the morning. So far, no administrators have attempted to enter Massachusetts Hall, and interactions with campus police have been calm, Opie says.
Student activists at Harvard have tried unsuccessfully for three years to get Faust and other officials to consider divesting the school's endowment from fossil fuel stocks. Students occupied the first floor of Massachusetts Hall last month after after a state judge dismissed their lawsuit against the university to force the school to divest. Faust expressed frustration with the protests, saying, "I wish [Divest Harvard] would focus on accomplishing what we want to accomplish, which is have an effect on climate change, rather than on one particular instrument."
Opie says this week's blockade is a necessary action. "We're using this tactic because dialogue has been refused again and again," she says. "We're not calling for dialogue anymore. We're calling for full divestment."
Advocates say the goal of divestment is not to financially bankrupt energy companies such as oil-and-gas majors like Royal Dutch Shell or coal giant Peabody Energy. Instead, the idea is that by pulling stocks out of fossil fuel companies, investors send a signal that those companies are undesirable. The movement is modeled after the campuswide efforts in the 1970s and 1980s that protested the racially segregated apartheid regime in South Africa.
"The primary reason [for divestment] is the moral implication of those companies," says Brett Fleishman, a senior analyst with 350.org in Oakland, California.
"When institutions with large political constituents, like pension funds or endowments, make a big divestment announcement, there's a rejection of the behavior of that industry and their core business," Fleishman says. That in turn creates "a growing stigmatization of fossil fuels, which then leads to political space for restrictive legislation," such as a cap and trade or carbon tax policy that limits the amount of carbon dioxide emissions a company can produce.
So far, divestment efforts have not translated into the kind of aggressive carbon-fighting federal policies that advocates hope to see, and fossil fuel companies remain multibillion-dollar enterprises. But the movement has ignited a growing public debate around the future of U.S. and global energy supplies, which could eventually soften policymakers' stance on carbon regulations, experts say.
"It may be harder to draw a straight line between the action and the result … in terms of whether or not it can have an impact on decision-making at the companies," says Shanna Cleveland, a senior manager at Ceres, a coalition of environmentally focused investors with a combined $10 trillion in assets. "But divestment as a strategy has created a huge sense of momentum among a lot of the public, and that's worthwhile as well."
© Copyright IBTimes 2023. All rights reserved.