'Hate The Yankees' Trends But Twitter Still Respects Derek Jeter At All-Star Game After #Re2pect Ad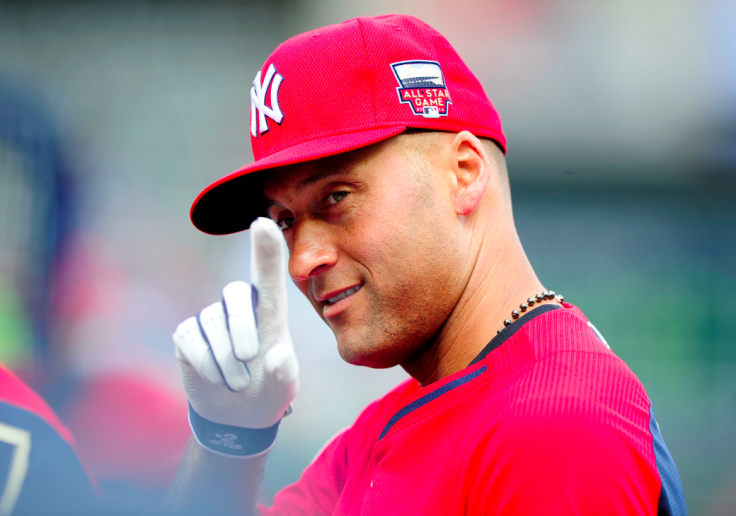 Longtime New York Yankee Derek Jeter's illustrious career is nearing its end, and with the help of a Nike ad, people flocked to Twitter Tuesday night during the All-Star Game to share how much they respect The Captain, even if they devoutly hate the Yankees.
Jeter has been a Yankee throughout his 20-year career in Major League Baseball. As No. 2, he quickly became known as one of the best hitters and shortstops in the game. At 40 years old, the New Jersey native is ready to retire his pinstripes and put down his glove, professionally at least.
In the Nike commercial that debuted Monday, viewers got to see fans, peers, celebrities, other athletes, police officers, firefighters, politicians and even rivals tip their hats to Jeter, arguably the most respected man in baseball.
Jeter, which in French means "to run," starts out the ad by adjusting the rim of his helmet. People in the audience begin to tip their hats as a salute, but the commercial goes further than that. Former teammates sitting at a table make the gesture, a young boy watching the game at home does the same, members of the New York Mets with their faces blurred out, along with mascot Mr. Met, pay tribute with the gesture and even two Boston Red Sox fans, though somewhat begrudgingly, acknowledge The Captain.
The ad has become a sensation, being viewed nearly 3 million times since it was released, and the hashtag #re2pect was one of the top trends through most of the day on Facebook and Twitter. No matter how many people hate the Yankees, they can't help but "re2pect" Jeter. Some comments from Twitterati have been posted below:
Follow me on Twitter @mariamzzarella
© Copyright IBTimes 2023. All rights reserved.