Healthy Pizza Recipes: Childhood Obesity Trend Could Be Addressed With Better Toppings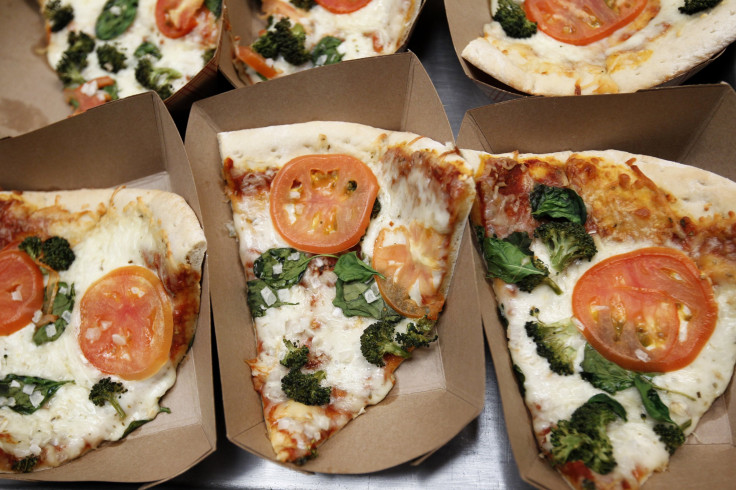 Scientists have identified another threat to America's children: pizza. The cafeteria staple many kids call their favorite could be largely contributing to childhood obesity, according to a study published this week in the journal Pediatrics. The findings come during an ongoing debate about federal policies on school lunches and raise questions about how to get children to stop eating their favorite unhealthy food.
Because pizza won't get any less convenient for parents to serve or less tasty in the eyes of kids, nutritionists say the fix lies in healthier ingredients. "Pizza's not a bad food if done in the right way," said Jule Henstenburg, a nutrition professor at LaSalle University in Philadelphia.
Though the level of pizza consumption has dropped in recent years, it's still too much, according to the study's authors. Only grain desserts like cookies and cakes were more popular with kids. The study found about a fifth of kids between ages 6 and 19 eat pizza on any given day, greatly increasing their consumption of saturated fat and salt -- not to mention calories. On days they have pizza, children eat an average of 408 extra calories. Teens consume 624 more.
The issues lie in high-fat toppings like cheese and pepperoni, Henstenburg said. Parents and schools should stop serving those versions to kids and instead use more vegetables as toppings. "You want to create a situation where the pizza is healthy," she said. "You want to feed that to kids and get them used to it."
That's what the White House has been trying to do, but recently updated school lunch standards have been met with backlash. Schools have criticized the new United States Department of Agriculture rules for being too expensive to meet, and some students don't like the new food options -- see social media hashtag #ThanksMichelleObama. About 1.5 million students have stopped eating cafeteria lunches since the first wave of USDA regulations took effect in 2012, the School Nutrition Association said in a statement.
But school isn't the only place children get pizza. Nutritionist Jill Castle, of New Canaan, Conn., said unhealthy options are too widely available for kids. Pizza is often served at sporting events and parties as the main dish when it should be just an entree served with a salad or fruit, she said.
The Pediatrics study is just evidence that unhealthy pizza is bad for children -- not pizza overall, Castle said. Using whole wheat dough, topping pizzas with veggies and serving them at appropriate times can turn the food into a valuable part of a young person's diet.
"This is not saying don't eat pizza," study co-author Lisa Powell told Bloomberg. "It's a nice opportunity for us to make some small changes because it's such a prevalent item in children's diets. Hopefully we can make healthy pizza the norm."
Below are some ideas on how to serve more healthy pizza recipes to kids using better toppings and smarter servings:
Use an alternative crust, like whole-wheat tortillas or pita bread. You can even make pizza crust out of shredded cauliflower and a lightly beaten egg. See recipe here.
Don't have a crust at all. Put your toppings right on top of grilled eggplant slices or butternut squash.
Make your own sauce so there's no added sugar like with the store-bought stuff. This recipe only includes tomatoes, olive oil, an onion, garlic, a carrot and half of a celery stalk.
Try vegetables for toppings. Kids usually shy from anything green, but onions and mushrooms are good bets. Greatist.com also recommends peppers, beets and artichokes.
Sprinkle a stronger cheese. Instead of using tons of mozzarella, try parmesan for more flavor. Because you're using less cheese, you're eating fewer calories.
© Copyright IBTimes 2022. All rights reserved.
FOLLOW MORE IBT NEWS ON THE BELOW CHANNELS