Heavy Clashes Erupt Over Tripoli Airport, At Least Four Dead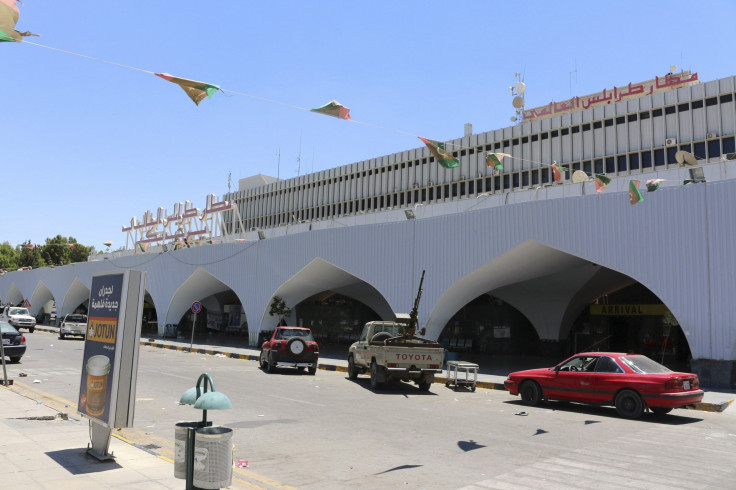 (Reuters) - Heavy fighting erupted on Sunday around Tripoli International Airport, where rival militias have been battling for control, killing at least four people and forcing thousands from their homes, local residents and witnesses said.
The airport standoff is the most serious violence in Tripoli since the 2011 fall of Muammar Gaddafi, with Libya's fragile government unable to assert authority over rival brigades of former rebels fighting for political and economic power.
Militias used heavy anti-aircraft cannons, Grad missiles and rockets in exchanges around the Qasr Ben Ghashir neighborhood, trapping some families while several thousand others fled the fighting around their homes, community leaders said.
One Reuters witness said gunmen were set up on roofs of homes facing each other with residents caught in between.
"The shells are landing on us from all warring militias," said Mohammed Abdulrahman, a spokesman for the district. "We couldn't reach some families until now."
A doctor from a local hospital said they had received nine wounded from the area. A health ministry official did not return calls seeking confirmation of the death toll.
The fighting broke out just days after one powerful militia said it was ready to put an end to heavy clashes that had deepened fears the vast North African oil-producing country is becoming a failed state.
The battle pits fighters from Zintan in the northwest and their allies, who controlled the airport since the ousting of Gaddafi, against armed groups tied to Misrata, a western coastal town. Both are loosely allied with competing Islamist and nationalist political factions.
The clashes have all but suspended international flights from Libya, damaged more than a dozen planes parked at the airport and prompted the United Nations to pull its staff out of the country because of security fears.
© Copyright IBTimes 2023. All rights reserved.