Heisman Award Ceremony 2013: Where To Watch Online, TV Channel, Start Time And Prediction For College Football Trophy Presentation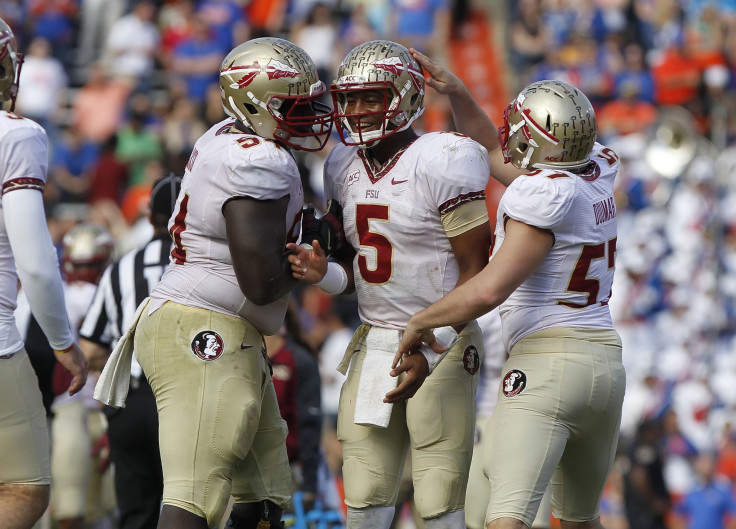 The question on Saturday night won't be who will win the 79th Heisman Trophy award, but rather how wide a margin Florida State quarterback Jameis Winston will win.
Winston is all but certain to capture the prestigious award, the second consecutive freshman to do so since Texas A&M's Johnny Manziel became the first last year. Winston guided the Seminoles to a perfect 13-0 regular season record and their first national title game berth since 2000.
In most years, the voting would be closer with so many worthy candidates, but Winston's 3,820 yards passing with 38 touchdowns to 10 interceptions and the nation's best passer rating (190.1) have lifted him above the competition.
Winston could even challenge the all-time voting mark set seven years ago. The largest margin of victory in Heisman history came in 2006, when Ohio State's Troy Smith eclipsed Arkansas's Darren McFadden by nearly 60 percent of the vote. Not even Manziel, after his torrid and historical burst onto the college scene could challenge that tally, finishing with 72.88 percent of the vote compared to Notre Dame runner-up Manti Te'o's 61.27 percent.
Winston's candidacy, to say nothing of his future outside of football, was in great jeopardy after allegations of sexual assault came to light last month. Last week the Florida State Attorney General's office announced Winston will not face any charges, but his accuser's lawyer lambasted the handling of the case during a press conference on Friday afternoon.
Patricia Carroll said the state attorney had redacted information in the final report released to the media, specifically blacking out key information in a medical report that cited injuries suffered by the accuser and that she was allegedly given painkillers.
Before state officials decided not to charge Winston, it was believed Heisman voters would leave him off their ballots if any charges came down. The final votes were due Monday, four days after the state attorney's announcement.
The six-man field loaded with quarterbacks includes Northern Illinois's Jordan Lynch, Alabama's A.J. McCarron, and Manziel, along with running backs Tre Mason of Auburn, and Boston College's Andre Williams.
Williams led the nation with 2,102 rushing yards and 17 touchdowns, but it wasn't enough to lift the Golden Eagles up from a 7-5 record. Mason pasted the SEC for 1,621 yards and is a big reason why the Tigers will face Winston and Florida State in the BCS title game.
Manziel's rushing numbers were down from last year, and he needed to lead the Aggies to the national championship for any chance to repeat. Lynch was arguably the most dangerous dual threat passer in the country, but beat up on lesser competition all season. McCarron's stats dipped this season, but he would have been the new frontrunner if Winston was facing charges and it would have turned into a career achievement award.
Based on a straw poll by USA Today of Heisman voters, 26 of the 29 polled selected Winston. Mason was the only other finalist to pick up a first place vote in the unofficial tally.
While they might walk away disappointed with Saturday's results, many times runners-up for the award have gone on to more lucrative and rewarding professional careers than the winners.
Adrian Peterson lost out to Matt Leinart in 2004 and is now considered the best running back in the NFL. Larry Fitzgerald has certainly surpassed 2003 winner Jason White; Drew Brees has captured a Super Bowl while Chris Weinke hasn't taken an NFL snap since 2007; and Marshall Faulk can boast a Hall of Fame career over 1992 winner Gino Torretta.
Time: Saturday, 8 p.m. ET
TV Channel: ESPN
Where To Watch Live Online: Watch ESPN here.
Prediction: Winston will run away with first place, while Mason and McCarron come in second and third respectively.
© Copyright IBTimes 2023. All rights reserved.