Here's Every Horse That's Almost Won The Triple Crown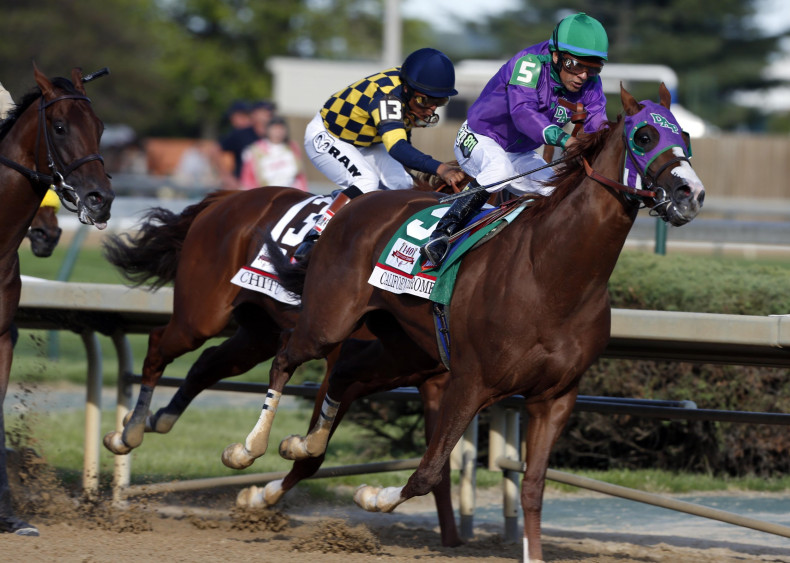 After galloping to victory at both the Kentucky Derby and Preakness, California Chrome joined the elite group of horses that earned the opportunity to try for a Triple Crown.
Unfortunately, he'll be in the history books among the other horses that failed at the Belmont.
Just 21 horses have won two of the three races needed to lock down the Triple Crown honor. The first horse to almost achieve the feat was Burgoo King in 1932. California Chrome was the first horse to have a chance to win the title since I'll Have Another in 2012.
If he'd won the Belmont Stakes, California Chrome would have joined the exclusive group of 11 Triple Crown winners, the most recent being Affirmed in 1978. But even though he finished tied for fourth behind Tonalist in the Belmont Stakes, California Chrome is still in good company with the 21 other horses below, all of which just missed winning the elusive title.
1932 - Burgoo King (Didn't start)
1936 - Bold Venture (Didn't start)
1944 - Pensive (2nd to Bounding Home)
1958 - Tim Tam (2nd to Cavan)
1961 - Carry Back (7th to Sherluck)
1964 - Northern Dancer (3rd to Quadrangle)
1966 - Kauai King (4th to Amberoid)
1969 - Majestic Prince (2nd to Arts and Letters)
1971 - Canonero II (4th to Pass Catcher)
1979 - Spectacular Bid (3rd to Coastal)
1981 -Pleasant Colony (3rd to Summing)
1987 - Alysheba (4th to Bet Twice)
1989 - Sunday Silence (2nd to Easy Goer)
1997 - Silver Charm (2nd to Touch Gold)
1998 - Real Quiet (2nd to Victory Gallop)
1999 - Charismatic (3rd to Lemon Drop Kid)
2002 - War Emblem (8th to Sarava)
2003 - Funny Cide (3rd to Empire Maker)
2004 - Smarty Jones (2nd to Birdstone)
2008 - Big Brown (Did not finish to Da' Tara)
2012 - I'll Have Another (Did not start)
2014 - California Chrome (tied for 4th to Tonalist)