Here's How 'Devastating' A China-Taiwan War Would Be To The World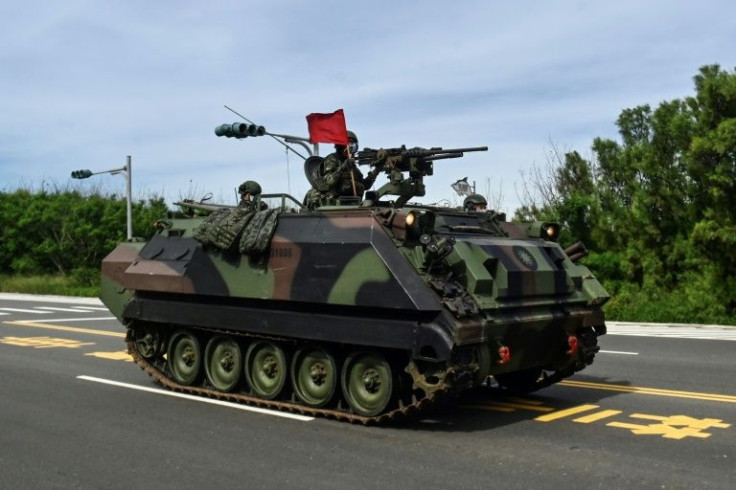 KEY POINTS
U.S. Defense Secretary Lloyd Austin insists a China-Taiwan conflict is "neither imminent nor inevitable"
Austin warned a potential cross-strait conflict would affect the global economy
Industries heavily reliant on Taiwan's semiconductors could lose $1.6 trillion if a war breaks out, an analysis found
U.S. Defense Secretary Lloyd Austin has warned that the effects of a potential cross-strait conflict between China and Taiwan would be felt across the world.
Speaking at the Shangri-La Dialogue security summit in Singapore Saturday, Austin said that a China-Taiwan conflict is "neither imminent nor inevitable" but emphasized that the whole world would suffer if a war does break out in the Taiwan Strait.
"Deterrence is strong today—and it's our job to keep it that way," Austin said, according to the Pentagon. "The whole world has a stake in maintaining peace and stability in the Taiwan Strait—the whole world. The security of commercial shipping lanes and global supply chains depends on it. And so does freedom of navigation worldwide."
"But make no mistake: conflict in the Taiwan Strait would be devastating," he added.
The defense chief also warned that a cross-conflict "could affect the global economy in ways that we cannot imagine."
Austin said the U.S. is "determined" to maintain peace and stability across the strait, echoing President Joe Biden's statement that the country does not seek a Cold War with China.
Austin added that the U.S. is working to "strengthen the guardrails against conflict," champion diplomacy, and promote peace and stability in the region.
However, Lt. Gen. Jing Jianfeng of China's People's Liberation Army told Chinese state broadcaster CCTV that Austin's comments regarding Taiwan were "completely wrong."
Jing also accused the U.S. of trying to "consolidate hegemony and provoke confrontation" while damaging peace and stability in the region, CNN reported.
According to research firm Rhodium Group, a potential war over Taiwan could impact global trade and investment and create a massive supply chain problem.
Taiwan is home to the Taiwan Semiconductor Manufacturing Company (TSMC), which produces 35% of the world's automotive microcontrollers and 70% of the world's smartphone chipsets.
A "rough, conservative estimate" by Rhodium Group showed that industries heavily reliant on Taiwanese-made semiconductors could lose as much as $1.6 trillion in revenue annually if China sealed off the island from the rest of the world.
"Beyond the immediate effect on corporate revenues from lost semiconductor production, the global economy would face significant second-order impacts that would likely add trillions more in economic impact," Rhodium Group's study said.
A potential conflict would also gravely affect China's trade with the rest of the world and would disrupt more than $270 billion in trade "even before any sanctions were put in place," the research firm suggested.
It would also force foreign investors to dump their holdings of Chinese securities, with more than $1 trillion currently being held in onshore Chinese bonds and equities as of September 2022. The U.S., Taiwan's ally, also holds listed offshore Chinese equities with more than $775 billion in value.
Global shipping would be one of the first casualties in a potential cross-strait conflict between China and Taiwan, as 48% of the world's 5,400 operational container ships passed through the Taiwan Strait in the first seven months of 2022, Bloomberg reported.
The Luzon Strait between the Philippines and Taiwan offers an alternative route, but the typhoon season makes travel risky. An average of 20 tropical cyclones pass through the Philippines Area of Responsibility each year, according to the Philippine Atmospheric, Geophysical, and Astronomical Services Administration (PAGASA).
China's ruling Communist Party claims Taiwan as part of its territory even though it has never controlled it. The country has conducted numerous military exercises near to and around the island over the past few years.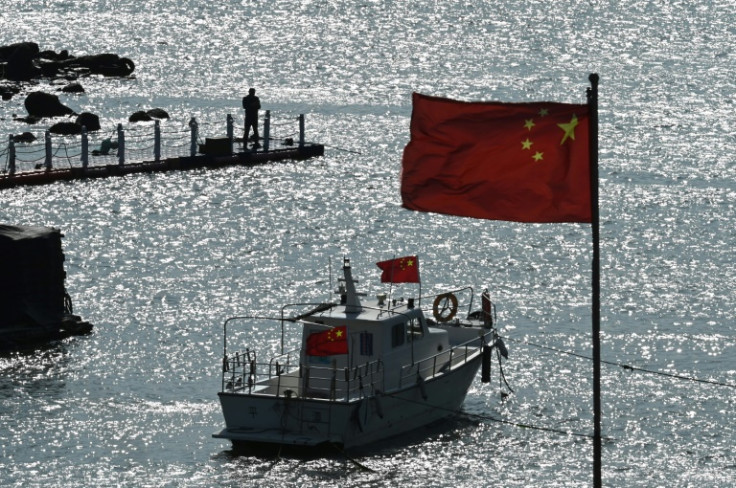 © Copyright IBTimes 2023. All rights reserved.