Herman Cain's 9-9-9 Plan Changes to 9-0-9 Plan for Poor Americans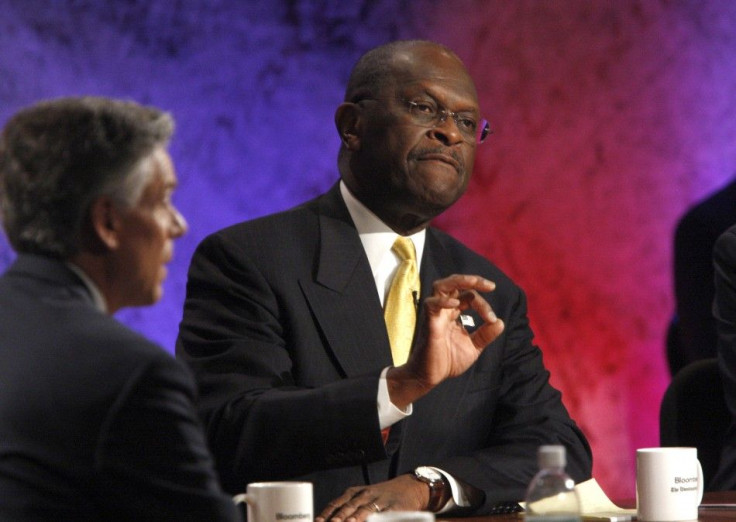 Herman Cain has made some changes to his 9-9-9 plan, telling an audience in Detroit Friday that the poorest Americans would get a 9-0-9 plan and be excluded from his tax proposal.
Cain has been getting hit on all sides for his 9-9-9 plan, something he repeats constantly during GOP presidential debates.
The plan calls for a nine percent corporate, national sales and income tax to replace the current tax system. The 9-9-9 plan also calls for elimination of capital gains, estate and payroll taxes.
Tax experts and groups that have analyzed the plan concluded that the proposal would shift the tax burden onto low-income Americans and away from the rich. Others have said it is an improvement over the current tax system because of lower taxes on savings and investments.
In Cain's speech, he said low-income Americans would be allowed to avoid paying a nine percent personal income tax.
If you are at or below the poverty level, your plan isn't 9-9-9 it is 9-0-9, Cain said. Say amen y'all. 9-0-9.
The turnaround is something of a departure for Cain, who staunchly defended the plan under a barrage of criticism from his fellow Republican presidential contenders.
Rep. Michele Bachmann of Minnesota has criticized the plan for giving the U.S. Congress a national sales tax, which could be raised under future administrations. Former Massachusetts Gov. Mitt Romney said at Tuesday's debate in Nevada that people would get slapped with a double sales tax, one federal and one state.
© Copyright IBTimes 2023. All rights reserved.