Hero Bomb-Sniffing Dog Finds 150 Russian Bombs In Ukraine
KEY POINTS
Patron, a bomb-sniffing dog, has detected more than 150 explosive devices in Ukraine's Chernihiv region
In addition to finding explosives, the 2-year-old Jack Russell terrier and his colleagues also teach people how to avoid mines
Patron has nearly 140,000 followers on Instagram, where photos of his discoveries are featured
A bomb-sniffing dog in Ukraine has detected more than a hundred explosives amid the country's war with Russia.
Patron, whose name means "cartridge" in Ukrainian, has been credited with discovering more than 150 explosive devices in the northern Chernihiv region since Russia launched its invasion on Feb. 24, Ukraine's Ministry of Foreign Affairs (MFA) announced in a post Sunday.
The 2-year-old Jack Russell terrier works for Ukraine's State Emergency Services (DSNS), as per NPR.
He made headlines after Ukrainian authorities revealed last month that he had neutralized 90 Russian explosive devices.
"Patron works closely with deminers to make Ukrainian cities safe again. Thank you so much for your service!" the MFA said in a post.
It was unclear if all of the 150 explosive devices Patron detected were from Russian forces.
The Russian military left behind up to thousands of land mines in homes, on streets, in fields, around cars and in doorways as they retreated from certain areas in Ukraine, according to Ukrainian President Volodymyr Zelensky.
They continue to use improvised explosive devices "to inflict casualties, lower morale and restrict Ukrainian freedom of movement," the United Kingdom's Ministry of Defense said.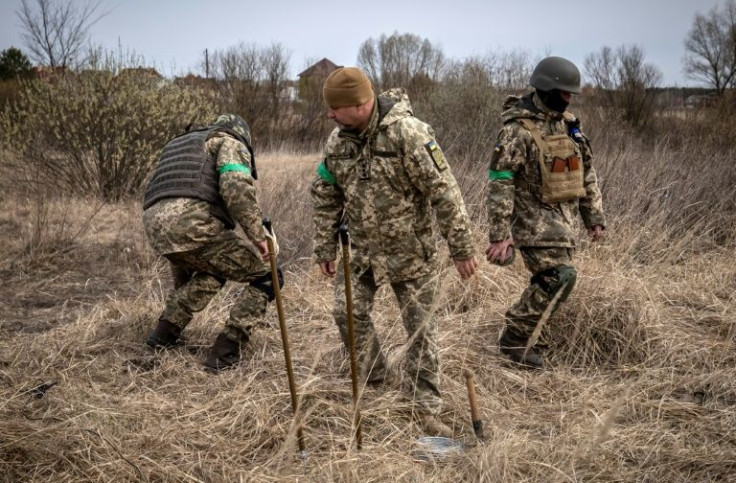 In addition to finding explosives, Patron and his DSNS colleagues also teach people how to avoid mines in Ukraine.
"Be careful, do not hurry to return to your homes. Don't approach broken machinery, don't go off the sidewalks and don't go to the woods now. This could be dangerous," the service said in a statement last week.
Should people find any "suspicious object," they are advised to call 101 or 102, the Ukrainian emergency numbers for fire and police services, respectively.
Patron now has nearly 140,000 followers on his Instagram account, where he is labeled a "Warrior dog." The account regularly posts photos of Patron with the explosives he has discovered.
"One day, Patron's story will be turned into a film, but for now, he is faithfully performing his professional duties," said Ukraine's Centre for Strategic Communications and Information Security, an agency under the country's Ministry of Culture and Information Policy of Ukraine.
© Copyright IBTimes 2023. All rights reserved.