Hershey's Changes 118-Year-Old Chocolate Bar Design
The classic look of the beloved Hershey's milk chocolate bars familiar to over three generations of chocoholics worldwide will soon see a change -- albeit temporarily.
In a bow to digital pop culture, a new set of Hershey's chocolate bars due to hit markets starting this summer will be peppered with emojis. The Hershey Company said it's replacing the logo on its bars with 25 popular emojis etched into the rectangles that make up its milk chocolate bar.
Each of the emojis was chosen to "feature meanings that would help to spark a conversation," according to Hershey's.
The company unveiled the new Hershey's Emoji Bar on a social media post, sharing a photo of the new bar, which shows the heart-eye, laughing and fist emojis etched into the chocolate.
"You [heart] emojis. Now you can [eat] them! They taste like really delicious chocolate. The new Hershey's Milk Chocolate Emoji Bar, coming this summer," said the Instagram post.
The company said the emoji redesign is the first time it's altered its milk chocolate bar design since this confection first went on sale in 1900. It also said the new emoji designs are temporary.
The emojis include a smiley face, the fist pound, a Cool emoji, a smiling emoji (of course), a ghost emoji and a sad face emoji, among others. The sad face is also temporary, said Hershey's.
The new bars will go on sale for a limited time beginning this summer. They will be sold in the standard size and snack size and will come in six different packagings. Hershey's said it will only make about 25 million standard- and snack-sized emoji bars.
"By adding an emoji design to each pip of chocolate, we hope that parents and kids are inspired to share a chocolate emoji and make a connection with someone new," said Kriston Ohm, senior manager at Hershey's.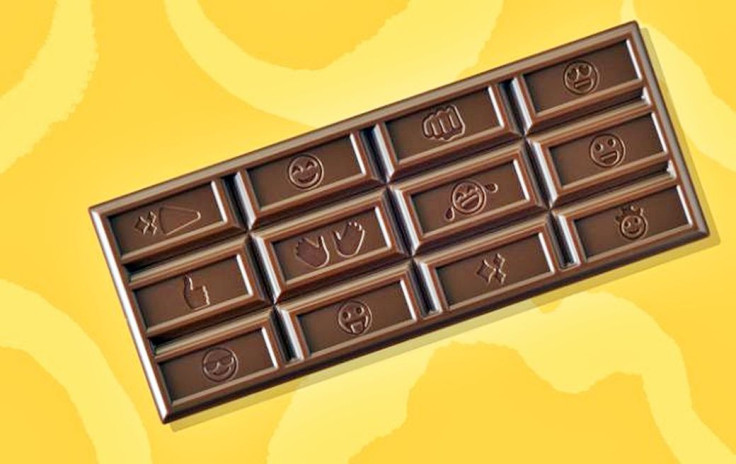 Hershey's enlisted the help of both children and adults to select the 25 emojis on the chocolate bar, said Ohm.
"In today's text savvy world, many conversations start (and end) with an emoji," she noted. "We worked directly with people using emojis the most -- parents and kid -- to determine which ones made it onto our iconic chocolate bar."
© Copyright IBTimes 2023. All rights reserved.