Hezbollah In Syria: Fighting On The Wrong Side Of History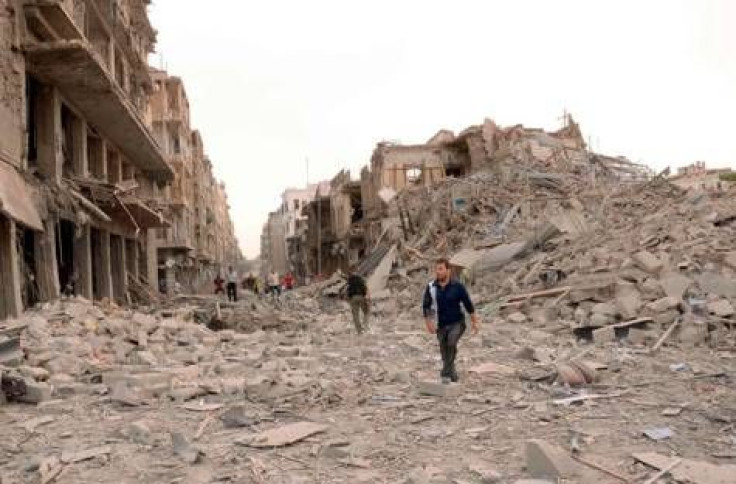 Hezbollah commander Ali Hussein Nassif, also known as Abu Abbas, and several other known members of Hezbollah were killed in an attack by the Free Syrian Army in Homs, Free Syrian Army commander Colonel Riad al-Assaad told the Saudi newspaper Okaz, according to Lebanon's Daily Star and Lebanon Now.
Hezbollah spokesman Ibrahim Mousaawi confirmed the deaths to The Daily Star, but did not provide further details. The FSA said that Abu Abbas was driving near Homs when rebels detonated a roadside bomb, according to Israeli outlet YNet News
Riad al-Assaad told the Daily Star that the FSA had been planning the attack for two weeks.
"Members of the FSA tracked Abu Abbas for days until they were able to kill him," the FSA commander said.
"Anyone who supports the [Bashar al-] Assad regime is a partner in crime and deserves punishment," he said, adding that the FSA will continue to attack any Iranians or Hezbollah fighters aiding Assad's forces, and that more than 300 people from Iran and Hezbollah had already been killed in the western Syrian city of al-Qusayr.
Hezbollah also confirmed that Abu Abbas was buried on Monday in the Bekaa valley in eastern Lebanon while performing his "jihadist duty," the BBC reported, citing information from the pro-Hezbollah website al-Intiqad, but did not elaborate, except to say that obituaries for Hezbollah fighters have begun to appear in Lebanese newspapers, "without the circumstances of the deaths being explained."
Hezbollah has long denied any involvement in the Syrian conflict, but the death of one of Hezbollah's leaders in Syria casts doubt on this claim. Last week, U.S. and Lebanese officials told the Washington Post that Hezbollah "has ramped up its support for the Syrian government" by sending in military advisors, and an anonymous Lebanese official claimed that Hezbollah has been "active in support of the Syrian regime with their own militia."
"They've been quite involved in a combat role, quite involved in fighting," the source said.
A political analyst named Lokman Slim also told the Post that Hezbollah has been helping the Syrian government with its propaganda efforts, while trying to maintain peace at home.
The Syrian conflict has deeply divided politics in Lebanon. Hezbollah, a Shiite party, is a known political backer of Assad, who is an Alawite Muslim, an offshoot of Shia Islam. Iran and its government are also mostly Shiite, and Iran recently announced it was sending in its Revolutionary Guards to aid Assad supporters.
The neighboring countries into which Syrian refugees have been fleeing are mostly Sunni. Lebanon and its parliament are divided between the two groups.
On Wednesday, Lebanese Member of Parliament Mohammad Kabbara, a member of the Future bloc party and a supporter of the FSA told Lebanon Now that he was demanding the Lebanese government "condemn" Hezbollah's suspected interference in Syrian politics, as it goes against Lebanon's pledge of non-involvement in the crisis.
Even if Hezbollah is not sending its troops into battle against the FSA, as they claim, their obvious and open support of Assad will not play well in the world's eyes if Assad's regime does eventually fall. Their weapons supply will most likely be cut off, their credibility will plunge, and their right to bear arms will be questioned without the backing of Syria's government, as columnist Alexandria Ahrendsen pointed out in Turkish Weekly.
It may be for this reason that Hezbollah is attempting to maintain peace within Lebanon while denying charges of Syrian involvement. Ahrendsen pointed out that Hezbollah's image and credibility "is already suffering in Lebanon because of negative public opinion, growing hostility and disagreement over the party's support of Assad in the ongoing Syrian crisis."
To that end, Ahrendsen wrote, Hezbollah is "trying to stay out of the limelight, and has been trying to capitalize on any situation that comes up in the country or in the region that they could capitalize on and use to preserve their image."
© Copyright IBTimes 2023. All rights reserved.